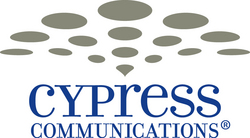 Atlanta (Vocus) July 21, 2009
Cypress Communications today announced that Frank Grillo, executive vice president of marketing, has accepted an invitation to present a session titled, Hosted UC Alternatives for the SMB, at INTERNET TELEPHONY Conference & EXPO West 2009 (IT EXPO West) on September 3, 2009. The session will be held at 9:30 a.m. at the Los Angeles Convention Center in Los Angeles, CA.
"Smaller businesses want to compete with larger enterprises on a level playing field -- deploying advanced video, hosted IP, presence, cloud computing, real-time & streaming video services and the like. Today's hosted solutions offer a means to an end -- enabling SMBs to cost-effectively deploy unified communications services without the cost and complexity of a traditional premises deployment," said Frank Grillo, executive vice president of marketing at Cypress Communications.
In this conference session, Mr. Grillo will discuss critical issues that hosted solutions must address, including bandwidth along the WAN link, interoperability of devices, integration of applications and devices, and cost parameters that can help SMBs achieve productive and cost-effective voice, video and data communications.
IT EXPO West, held September 1-3, 2009, is one of the leading IP Communications trade shows, drawing over 7,000 buyers and sellers of VoIP and IP communications products and services.
"We are very pleased that Frank Grillo will be participating in this year's show. Cypress Communications is widely recognized and respected as an industry leader, and I am confident that our attendees will appreciate and value the opportunity to hear his perspective on hosted unified communications," said TMC president and conference chairman, Rich Tehrani. "Over the past twelve months, widespread deployment of unified communications has reinforced that this exciting technology is a viable, cost-effective communications solution. As a result, we are seeing a significant number of senior-level executives attending IT Expo West as a means of learning about the technology so they, too, can take advantage of its benefits."
Registration for the show is now open. Anyone interested may register by visiting http://www.itexpo.com .
About TMC:
Technology Marketing Corporation (TMC) is an integrated global media company helping our clients build communities in print, in-person and online. TMC publishes Customer Interaction Solutions, INTERNET TELEPHONY, Unified Communications, and IMS Magazine. TMC is also the first publisher to test new products in its own on-site laboratories, TMC Labs. TMCnet, TMC's Web site, is the leading source of news and articles for the communications and technology industries. TMCnet is read by nearly one million U.S. visitors according to Quantcast* and by two to three million unique visitors each month worldwide, according to Webtrends. In addition, TMC produces ITExpo East and West, Call Center 2.0 Conference and Communications Developer Conference. For more information about TMC, visit http://www.tmcnet.com .
About Cypress Communications
For over 20 years, Cypress Communications has been helping small-to-medium enterprises (SMEs) connect, communicate, collaborate and continue™ with a range of fully hosted and managed voice, data and Internet solutions. Beginning in 2006, Cypress revolutionized the communications industry with its [hosted VoIP and [hosted unified communications solution, C4 IP, making it easy for SMEs to take advantage of productivity-enhancing technology such as integrated [audio and Web conferencing, multimedia collaboration tools, presence, chat, [Microsoft® Outlook integration, and more. As a Deloitte Fast 50 and Fast 500 award recipient, Cypress is recognized as one of the fastest growing telecommunication companies in North America. In 2008, the company was also named one of Atlanta's Best Places to Work. Cypress' hosted unified communications solution has received numerous awards and accolades, with 15 awards for excellence and innovation to date. The company's Web address is http://www.cypresscom.net .
To learn more about hosted unified communications, visit Frank Grillo's UC 360 blog at http://blog.tmcnet.com/uc-360 .
© 2006-2009 Cypress Communications, Inc. The Cypress Communications logo is a registered service mark of Cypress Communications, Inc. C4 IP is a trademark of Cypress Communications. Connect, communicate, collaborate and continue is a trademark of Cypress Communications. All other marks used herein are the property of their respective owners.
###