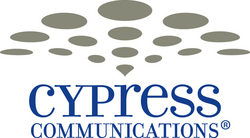 This award reaches beyond features and functionality and gets to the heart of why we pursue excellence: for the success of our customers
Atlanta (Vocus) October 1, 2009
Cypress Communications® announced today that Technology Marketing Corporation (TMC) has selected its hosted unified communications solution, C4 IP®, to receive the 2009 INTERNET TELEPHONY Excellence Award presented by INTERNET TELEPHONY magazine. C4 IP is a hosted VoIP and hosted unified communications solution that enables small-to-medium enterprises (SMEs) to connect, communicate, collaborate and continue® working productively in the face of any situation.
The INTERNET TELEPHONY Excellence Award honors companies who have developed IP communications products and services that give customers a true advantage. The extensive application process required Cypress to submit case studies of companies that have implemented C4 IP. With the positive impact of C4 IP verified by customers, TMC selected Cypress as a winner. Cypress' application featured two law firms who both increased productivity and collectively saved hundreds of thousands of dollars by avoiding upfront capital expenses and ongoing maintenance costs.
"This award reaches beyond features and functionality and gets to the heart of why we pursue excellence: for the success of our customers," said Frank Grillo, executive vice president of marketing at Cypress Communications. "Small and mid-sized enterprises are increasingly looking for cloud solutions, like C4 IP, that can help them accomplish more with less. C4 IP is the silver lining that enables enterprises to benefit from better communications while reaping the financial and technological rewards that cloud computing offers. This award signifies that we have succeeded in creating a unique and innovative solution that generates real results for our customers, and that is truly rewarding."
"The editors of INTERNET TELEPHONY were pleased to grant Cypress Communications with an INTERNET TELEPHONY Excellence Award for their achievements in advancing IP communications. C4 IP has proven its outstanding contribution to IP communications by delivering winning solutions to its customers," said Erik Linask, Group Editorial Director of INTERNET TELEPHONY.
C4 IP's hosted delivery model -- which reaches past the traditional line of demarcation for communications solutions and extends all the way to users' desktops -- delivers on its value proposition of providing the latest in communications technology while requiring no capital expense and no need for enterprises to hire and train additional staff to manage the solution. C4 IP comes complete with integrated voice and data access, IP phones, soft clients, unified messaging, chat, advanced call routing, ACD and Microsoft® Outlook integration, presence, audio and web conferencing, video calling and file sharing capabilities.
About INTERNET TELEPHONY magazine
INTERNET TELEPHONY has been the IP Communications Authority since 1998™. Beginning with the first issue in February of 1998, INTERNET TELEPHONY magazine has been providing unbiased views of the complicated converged communications space. INTERNET TELEPHONY offers rich content from solutions-focused editorial content to reviews on products and services from TMC Labs. INTERNET TELEPHONY magazine reaches more than 225,000 readers, including pass-along readers. For more information, please visit http://www.itmag.com .
About TMC
Technology Marketing Corporation (TMC) is a global integrated media company helping our clients build communities in print, in person and online. TMC publishes Customer Interaction Solutions, INTERNET TELEPHONY, Unified Communications, and NGN magazines. TMCnet, TMC's Web site, is the leading source of news and articles for the communications and technology industries. TMCnet is read by two million unique visitors each month on average worldwide, according to Webtrends. TMCnet has ranked within the top 3,000 in Quantcast's Top U.S. sites, placing TMCnet in the nation's top .03% most visited Web sites. In addition, TMC produces ITEXPO, 4GWE Conference (in conjunction with Crossfire Media), Digium|Asterisk World and AstriCon (in conjunction with Digium), and Communications Developer Conference.
TMC also serves technology professionals with industry-specific Web sites: IT.TMCnet.com, Cable.TMCnet.com, 4G-wirelessevolution.TMCnet.com, Robotics.TMCnet.com, Satellite.TMCnet.com, Green.TMCnet.com, Healthcare.TMCnet.com, and Education.TMCnet.com.
For more information about TMC, visit http://www.tmcnet.com .
About Cypress Communications
For over 25 years, Cypress Communications has been helping small-to-medium enterprises (SMEs) connect, communicate, collaborate and continue® with a range of fully hosted and managed voice, data and Internet solutions. Beginning in 2006, Cypress revolutionized the communications industry with its hosted VoIP and hosted unified communications solution, C4 IP, making it easy for SMEs to take advantage of productivity-enhancing technology such as integrated audio and Web conferencing, multimedia collaboration tools, presence, chat, Microsoft® Outlook integration, and more. As a Deloitte Fast 50 and Fast 500 award recipient, Cypress is recognized as one of the fastest growing telecommunication companies in North America. In 2008, the company was also named one of Atlanta's Best Places to Work. Cypress' hosted unified communications solution has received numerous awards and accolades, with 18 awards for excellence and innovation to date. The company's Web address is http://www.cypresscom.net .
For more information, contact:
Heather Whitt Roberts
Cypress Communications
404-442-0034
hwhitt(at)cypresscom(dot)net
Jan Pierret
TMC
203-852-6800, ext. 228
jpierret(at)tmcnet(dot)com
© 2006-2009 Cypress Communications, Inc. The Cypress Communications logo is a registered service mark of Cypress Communications, Inc. C4 IP and Connect. Communicate. Collaborate and Continue are registered trademarks of Cypress Communications. All other marks used herein are the property of their respective owners.
###