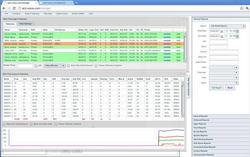 Telcentris' Hosted Contact Center solution requires minimal upfront investment, and can be deployed in a matter of days by businesses of any size, though it is particularly well-suited for small and midsize companies.
Las Vegas, NV (PRWEB) March 14, 2011
Telcentris®, Inc. , a cloud communications leader and creator of VoxOx®, today announced, at the Channel Partners Conference & Expo, the commercial availability of Hosted Contact Center, its next-generation hosted solution for inbound and outbound call center management. Telcentris upgraded from its former contact center solution to a brand new, feature-rich platform in order to enhance customer experience and provide more competitive pricing. Designed specifically for the cloud, the new platform boasts state-of-the-art functionality such as: inbound Automatic Call Distribution (ACD), predictive dialing, call recording and monitoring, full Customer Relationship Management (CRM) integration and more. Unlike most competitors, Telcentris offers both hosted contact center and hosted IP-PBX solutions, which work together seamlessly thereby providing centralized billing, support and a single point of contact for the business' overall phone system needs. Telcentris' Hosted Contact Center solution requires minimal upfront investment, and can be deployed in a matter of days by businesses of any size, though it is particularly well-suited for small and midsize companies.
Hosted Contact Center is a core product of Telcentris' Channel Partner Program and is therefore available with the company's highest channel commission structure of 20 percent commissions for agent partners and higher for eligible master agents.
"Customer feedback drives the evolution of our products and services, and we've incorporated the valuable input we've received to advance our contact center solution," said Rob Lewis, VP of product management at Telcentris. "As our hosted PBX and SIP trunking offerings integrate seamlessly with our hosted contact center, we are able to provide customers a truly unified solution that solves inbound and outbound call center requirements, while simultaneously addressing the organization's overall telephony needs."
Companies often use multimedia contact centers to interact with their customers and/or disseminate information. Many businesses solely leverage the inbound call center functionality for funneling customer support calls and other incoming inquiries. Others seek outbound call center features to conduct outbound call campaigns for the purposes of telemarketing, surveying, distributing election information and more. Some businesses have needs in both areas. Telcentris' Hosted Contact Center solution addresses a spectrum of customer requirements, offering packages with any combination of the following feature highlights:

Inbound ACD – Full automatic routing capabilities useful for validation of callers, call forwarding, balancing the use of phone lines, and other services. Advanced routing features include: Skills-based routing, geographic call distribution, and self-service complex Interactive Voice Response (IVR).
Outbound Predictive Dialing / Preview Dialing – Able to support thousands of simultaneous call center agents, significantly more than most six figure legacy premise-based solutions.
Call Recording and Monitoring – Available for both inbound and outbound calls. Additional tracking features include: real-time statistics, real-time reporting, detailed reporting and more.
CRM Integration – Contact center API can be used to integrate with any number of third-party applications and CRM packages, including Salesforce.com.
Other features include: Unlimited queues, event-based messaging, web-based administration, CTI/screen pops, live chat, click-to-talk / click-to-queue, reverse matching, robust scripting/survey engine, DTMF queue events and much more.
As a hosted solution, Telcentris' contact center offers customers a variety of advantages that enable them to compete with larger competitors without the capital expenditures associated with premise-based equipment. First of all, the hosted call center solution can be deployed within a matter of days – not months like many on-premises solutions. Second, there is only one network (which Telcentris maintains), so a customer's IT productivity is enhanced and deployment is faster and easier. Third, the completely customizable solution can scale easily for changing call volume needs from just a few agents to thousands, either centrally located or distributed throughout a unified network. It is fast and affordable to add call center seats for a temporary period, such as the holiday shopping season, and then remove the additional seats any time.
Telcentris offers flexible packages, allowing customers to pay for only the number of seats necessary. Hosted Contact Center pricing ranges between $90 and $125 per seat monthly, plus usage charges. Packages can include DIDs and/or toll-free phone numbers, and leverage Telcentris' powerful VoIP network, award-winning service delivery platform, affordable calling rates, and business-grade telephony solutions such as hosted IP-PBX and SIP trunking.
Hosted Contact Center is an offering of the VoxOx In Business division at Telcentris, Inc. For more information, please visit inbusiness.voxox.com or email sales(at)telcentris(dot)com. For questions regarding channel partnerships, please email partners(at)telcentris(dot)com or visit Booth #1201 at the Channel Partners Conference & Expo at the Aria Resort in Las Vegas, March 13-15, 2011.
About Telcentris®, Inc.
Telcentris is an innovator in cloud-based unified communications and VoIP solutions for consumer, business and wholesale markets. The foundation of the company's offerings is its award-winning unified communications platform in the cloud that enables the company and its customers to build powerful, scalable applications and services. For consumers, Telcentris delivers VoxOx, a free service that integrates voice, text, chat, fax, social networking and more. For businesses, Telcentris provides VoxOx In Business – a complete suite of VoIP business phone solutions that are more cost effective, efficient and easier to manage than traditional phone systems. Through a wholesale division, Telcentris also offers turnkey VoIP solutions and carrier services. Founded in 2006, Telcentris is headquartered in San Diego. For more information, please visit http://www.telcentris.com.
# # #