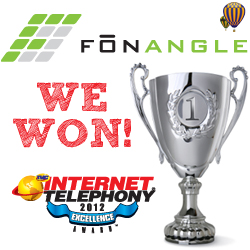 "The editors of INTERNET TELEPHONY were pleased to grant FonAngle's business VoIP platform with an Excellence Award for its innovation in IP communications"
New York, NY (PRWEB) September 28, 2012
FonAngle announced today that TMC has named FonAngle's Hosted Office Phone System (HoPs), a Hosted PBX platform, as a recipient of the 2012 INTERNET TELEPHONY Excellence Award.
"The editors of INTERNET TELEPHONY were pleased to grant FonAngle's business VoIP platform with an Excellence Award for its innovation in IP communications," said Erik Linask, Group Editorial Director of INTERNET TELEPHONY. "FonAngle's Hosted Office Phone System (HoPs) has demonstrated outstanding quality and delivered exceptional solutions for its customers."
FonAngle's Hosted Office Phone System--a class-leading Hosted PBX solution--unites all company devices into one streamlined communications entity, dependably managed by FonAngle's team of custom care and IT professionals.
"It feels great to be recognized by industry peers," said FonAngle CTO Chris Meyers. "When we started FonAngle, we looked at the competition and knew we could do better in two key areas: customer service and product quality."
FonAngle has delivered on these two cornerstone promises, and it comes as no surprise that they claimed the 2012 Internet Telephony Excellence Award for Business VoIP and Hosted PBX, beating out dozens of their competitors.
"Our clients stay with us and recommend others to our Hosted Office Phone System, FreedomSIP, MeshLINQ, and other services because they know they'll receive unparalleled care and an exceptionally high quality telephone service," Meyers said.
FonAngle has added many notable clients to their growing customer base. Pro-sports software developer Hudl was recently feature on FonAngle's blog as a loyal customer, singing the praises of FonAngle's excellent customer service.
"Our clients know they can always pick up the phone and speak to a helpful, knowledgeable FonAngle support staff member, and that they'll do so over an uninterrupted, reliable phone connection."
Meyers expressed his enthusiasm for Internet Telephony Magazine's coverage of the growing Business VoIP and Hosted PBX sector. Business VoIP revenue reached $49.8 billion in 2010 and is expected to hit $75 billion within the next three years. This is due in part, Meyers said, to publications like Internet Telephony Magazine providing the facts about the reliability and low-cost of Hosted PBX / Business VoIP solutions.
FonAngle has also built a strong reputation for FreedomSIP, their SIP Trunking service; MeshLINQ, their exclusive link aggregation technology; and for their fast and reliable business internet service offerings.
"We plan on making this one of many Excellence Awards for FonAngle," said Meyers. " I thank our customers and partners for their continued support."
Visit http://www.fonangle.com for information on FonAngle products and services, or learn about what's new at FonAngle via their blog.
The 2012 INTERNET TELEPHONY Excellence Award winners are published in the September 2012 issue of INTERNET TELEPHONY magazine.
For more information, please visit TMCNet's website.
About FonAngle
FonAngle Communications is an award-winning Business VoIP leader for small to medium sized businesses. Their unified communication solution, "Hosted Office Phone System™ (HoPs)" is an enterprise class platform that combines voice, fax, instant messaging, presence, mobility, conference and web integration into one streamlined system. FreedomSIP, their SIP Trunking solution, is another business phone solution that promotes efficiency and flexibility; allowing customers to extend the life of their legacy equipment and benefit from huge costs savings. As a company focused on Quality, Support & Value, customers rave about how FonAngle increases productivity and saves them money.
For more info please please contact.
Media Relations
FonAngle
212-920-4340