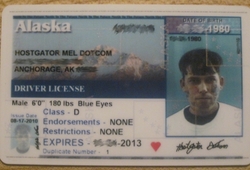 I wanted to be the first person to ever have their name legally changed to a website
Houston, TX (PRWEB) August 21, 2010
HostGator.com, a provider of web site hosting services to more than 3 million domain names, has a announced a unique advertising partnership with Billy Gibby, also known as "Billy the Human Billboard", a well known boxer in Anchorage, Alaska. Billy has agreed to change his legal name to "Hostgator Dotcom."
Hostgator Dotcom (formerly Billy Gibby) is no stranger to unorthodox means of advertising. Last year Billy Gibby received a "HostGator.com" tattoo on his neck. Since then, he has received additional advertising tattoos and now sports over 20 company tattoos covering his forehead, face, and torso.
"I wanted to be the first person to ever have their name legally changed to a website," said Hostgator Dotcom, born Billy Gibby. "I can't wait to see the look on people's faces when they see my drivers license, or when they announce me into the ring for a fight with--please welcome Hostgator Dotcom."
"Billy, or should I say Hostgator Dotcom is a great guy and we couldn't pick someone better to brand our company name. He's a successful boxer, a living organ donor, and has a great attitude." said Lance Custen, CEO for HostGator.com.
About Hostgator Dotcom
Hostgator Dotcom lives in Anchorage, Alaska with his fiancé, Mailyne, and their kids, Princess and William. He is a successful boxer with a record of 18 wins, 0 losses. He has been featured in The Anchorage Press, Anchorage Daily News, San Diego Tribune, Business Weekly, as well as Rebel Ink and Bizarre Magazine and has been on news shows in California as well as Alaska. Hotgator Dotcom hopes to be added to the Guinness Book of World Records for most area of one's body covered in tattoo advertisements.
About HostGator.com
HostGator.com LLC is a world leading provider of shared, reseller, and dedicated web hosting. Privately held and based in Houston, Texas, the company was founded in 2002 by current Founder and Chairman Brent Oxley, who started the company from his dorm room at Florida Atlantic University. Since then, HostGator has grown from a small hosting company with just three servers into a world leading and industry recognized hosting provider with more than 8,000 servers under management. The over three million domains hosted by HostGator make up approximately 2% of the world's Internet traffic. For more information, please visit HostGator Web Hosting.
###