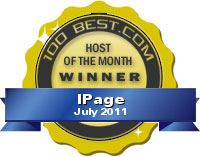 St. George, UT (PRWEB) July 18, 2011
100Best-Free-Web-Space.com names iPage as web hosting provider of the month for July 2011 because of the extraordinary quality and value of the web hosting services they provide. iPage has been providing web hosting services for more than 10 years. iPage serves more than a million websites with 6 locations worldwide and more than 800 employees to service all their customers. With 10 years of web hosting experience iPage knows what it takes to provide a reliable and valuable web hosting service.
At 100Best-Free-Web-Space Internet specialist have spent years reviewing and testing many paid and free web hosting service providers and iPage has repeatedly been one of the top performing hosts. iPage offers a single web hosing plan that is easy enough for a beginning webmaster to us but robust enough to support the most complex website. With many unlimited features like disk space, bandwidth, domains, MySQL databases and more. Whether the website hosted on an iPage account is a small personal website, sharing photos with family and friends, or a large corporate website, iPage has all the features and tools needed to support any website.
In addition, iPage provides twenty-four hour a day, seven days a week of network monitoring to ensure that the web servers are up and running all the time. With twenty-four hour phone, chat, and email support webmasters can get answers and help at any time. iPage also understands how important online marketing is for every website, that is why they offer a complete marketing suite, a $275 value. With everything from Google AdWords credits to Yahoo/Bing credits, and Facebook credits each webmaster will have the tools they need to market a new website so that search engines and visitors can easily find the products or services they are offering.
100Best-Free-Web-Space looks at every aspect of the web hosting plan and service when selecting the host of the month. For webmasters that are looking for a reliable web host with all the best web hosting features, visit the iPage review for complete details on all the web hosting features they have to offer and special iPage coupon pricing.
About 100Best-Free-Web-Space.com
http://www.100Best-Free-Web-Space is a website providing web hosting reviews for both paid and free web hosting services. Visitors will find webmaster tools and free website tutorials to provide help to webmasters of all skill levels.
###