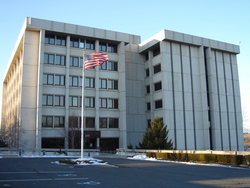 There is a lot of confusion about what a cloud is and even more confusion over how to build a truly efficient and sustainable cloud
Clifton, NJ (PRWEB) July 20, 2010
Veteran web host, lifetime technophile and CEO of DedicatedNOW - Jason Silverglate, will be speaking at HostingCon 2010 in Austin, TX. The hour presentation will be at 4PM on July 21st in the tradeshow's "Cloud Track" and is focused on cloud design, from start to finish.
"There is a lot of confusion about what a cloud is and even more confusion over how to build a truly efficient and sustainable cloud," says Silverglate, CEO of DedicatedNOW, a managed dedicated hosting company. The CEO's presentation will cover all facets of cloud design, including hardware, network configuration, storage considerations, selection of hypervisor and cloud management software.
With 12 years in the business, Silverglate has developed an innate knowledge of hardware available on the market. Options including 1U rackmount, 2U blade and 8U blade chassis will be discussed, as well as specific metrics like cost per GB of RAM, cost per kw and price per U; all of which factor into the viability of a host's cloud. Jason will also cover network options, such as 1Gbps, 10Gbps, Infiniband and Fiber Channel. Cloud storage and IOP (I/O Operations per second), which is a key metric for cloud performance will be discussed and Jason will enlighten the audience on various storage solutions available on the market.
With more than a year of internal testing of the company's cloud hosting infrastrucutre, Jason will share his own experience on Hypervisor selection and discuss options such as XenServer, XenSource, Vmware ESX, KVM, HyperV and VMware ESXi. Cloud management systems including Cloud.com, ONapp, Abiqiuo and Enomaly will also be reviewed and discussed during the presentation.
DedicatedNOW is also exhibiting at HostingCon 2010. The Company's senior management will be on-site throughout the exhibition at booth #106. Jason will be available during the conference to cover questions about cloud infrastructure and dedicated hosting.
Attendees are urged to visit the DedicatedNOW booth to meet with DedicatedNOW's staff and enter for a chance to win a Sony Dash. The Dash is Sony's latest innovation – a personal internet viewer capable of running more that 1,000 free apps over Wi-Fi. For more information about DedicatedNOW, visit the Company's website at dedicatednow.com, call 888.734.9320 or visit booth #106.
About DedicatedNOW
DedicatedNOW, Inc. is a privately owned, multi-million dollar corporation located in Clifton, New Jersey and founded in 1997. DedicatedNOW provides managed and unmanaged dedicated web hosting services to thousands of satisfied customers. The Company delivers cutting-edge hosting solutions to meet the requirements of small and medium sized businesses as well as large corporations. Customers rely on DedicatedNOW for reliable, secure and value-rich services such as dedicated servers, managed hosting, complex hosting, CDN, reseller and colocation hosting.
DedicatedNOW's servers are located in a state-of-the-art data center in Clifton, New Jersey. The Clifton, NJ facility houses nearly 5,000 servers in a secured environment, right next door to the Company's corporate headquarters and network operations center.
For more information about DedicatedNOW, visit http://www.dedicatednow.com
# # #