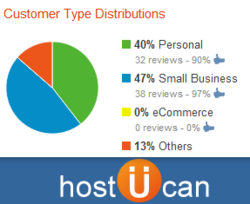 With Customer Type Distribution report, it's easy to know what a web hosting solution is designed for!
San Francisco, CA (PRWEB) April 10, 2012
HostUCan.com, an industry leading Web hosting review and search platform, today introduces the guide on how to know customer type distributions of a Web host from its 360 Web hosting review and why it's important when choosing a Web hosting solution.
As said by HostUCan.com,each Web host has its own target market. Some might focus on business hosting, some are for individuals and small business. Different focus comes with different service level agreement and different price.
If individuals host their personal site in a business hosting, it's highly possible that they have paid more than they should. But hosting an e-Commerce business site in a server which is designed for individuals might be a disaster to the online business.
And using HostUCan Customer Type Distribution report will help webmaster understand what a Web hosting solution is designed for. The report will show the customers distribution and its relevant recommendation rate. If a Web host receives a very high recommendation rate from their business customers, it means their solution is good for business site. And so on for e-Commerce site and Personal site. HostUCan also use the data from InmotionHosting and WebHostingHub to explain how to know the customer distribution of a Web host.
Want to know more about the guide, please visit hostucan.com/tutorials/hostucan-360-degree-customer-type-distribution.
About HostUCan.com
HostUCan.com is a need-centric Web hosting review and search platform. Their powerful products search engine could help webmasters find the best hosting solutions based on their hosting needs. HostUCan is also a place for webmasters to share their hosting experience and to seek information from other experts.