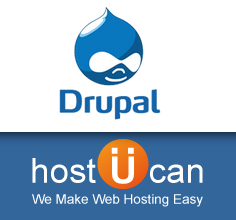 HostUCan Make Drupal Hosting Easy
(PRWEB) March 10, 2012
HostUCan.com is pleased to announce the available of new Drupal hosting tutorials on their Drupal hosting sections. Those tutorials are designed to teach anyone who wants to learn how to find an ideal hosting solution for their Drupal site, install or migrate Drupal, and optimize Drupal for both better performance and SEO.
Drupal is a powerful content management system which is written in PHP and is used to power at least 1.5% of all website worldwide ranging from personal blog to corporate, political and government sites. It is also used for knowledge management and business collaboration.
But finding an optimized hosting environment for Drupal is a headache task even for an experienced Drupaler. The new tutorials from HostUCan will provide users with hands-on practical tutorials on most of issues they might meet when hosting a Drupal site, which include identifying Drupal hosting requirement, how to search for an optimized Drupal hosting solution, installing drupal, moving a Drupal site, Drupal performance turning and Drupal SEO.
HostUCan is designed to be a trusted place for people to find the best web hosting solution for their site. In their Drupal hosting section, besides those tutorials, it also includes many other features to help people find the best Drupal hosting solution, such as:

Drupal hosting search tools which rank a hosting solution based on their compatibility with Drupal, reliability, performance, customer feedbacks, affordability and more.
Web hosting reviews from real Drupal webmaster
Drupal hosting forum for people to discuss various Drupal hosting issues.
Need a Drupal hosting, don't forget to check out Drupal hosting section from HostUCan.
About HostUCan.com
HostUCan.com is a need-centric web hosting search and review platform. Their powerful products search engine could help webmasters find the best hosting solutions based on their hosting needs. HostUCan is also a place for webmasters to share their hosting experience and to seek information from other experts.