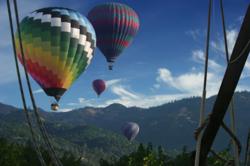 Calistoga, CA (PRWEB) October 06, 2011
Calistoga Balloons can provide people with an unforgettable experience of soaring over the beautiful sights of the Napa Valley. Those who have been on hot air balloon rides almost always return for additional flights and for those who have always wanted to experience one, Calistoga is the place for people to treat themselves with a tranquil, beautiful adventure of hot air ballooning.
Robert Louis Stevenson once said, "There is nothing under the heaven so blue that's fairly worth traveling to." Calistoga Balloons has used this as their mantra in providing a thrilling experience to first time flyers and frequent guests.
They fly over the pristine, scenic rural areas at the northern end of Napa Valley. The flights will offer views of Mount St. Helena, Palisades Cliffs, Old Faithful, Castello di Amorosa, Sterling Vineyards and Chateau Montelena.
The best time for a hot air balloon sightseeing tour, over Napa Valley, is early in the morning, so Calistoga's rides begin at sunrise. They ask that customers dress for the weather with layered clothing, comfortable shoes, hats and sunglasses. Be sure to bring a camera because the early morning light provides for the perfect photo opportunities.
Reservations must be made at least 24 hours in advance and they can provide a complimentary shuttle service. Should weather be a factor, Calistoga Balloons offers an optional flight corridor 30 miles to the east. For a refund all cancellations must be made 72 hours prior to the flight.
For more information and to make reservations, contact Calistoga Balloons at (707) 942-5758 or visit them on the web at http://www.bonaventuraballoons.com/.
About Calistoga Balloons and Bonaventura Balloon Company, Inc.
The Napa Valley Wine Country is one of the most perfect places on earth, not only for growing premium wine grapes and wine tours, but also for soaring peacefully in colorful hot air balloons with Bonaventura Balloon Company, Inc. The sensation of ballooning is very gentle and its calming effect seems to put the world below into perspective. Lush vineyards and world-famous wineries drift into view, giving you the unmatched feeling of being above it all.
###