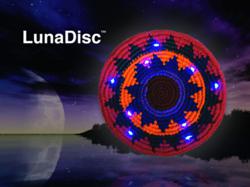 "We're excited to expand our market with the new LunaDisc," said Phd Productions Co-Founder Patrick Groft
Charlotte, NC (PRWEB) July 06, 2012
A colorful new sports disc known as the LunaDisc will soon light up the night sky, in time for the holidays.
The LunaDisc is a 100% cotton, crocheted colorful flying disc that has LED lights. Like the original Pocket Disc, the LunaDisc will be safe for play both indoors and outdoors and is fun for kids and adults.
Currently, the LunaDisc is available for pre-order on the popular crowdfunding website Kickstarter.
Products Are Popular With Disc Golf And Outdoor Enthusiasts
The Pocket Disc, made by Phd Productions, is already a hit with disc golfers, and the LunaDisc will allow them to play into the night.
Interest in disc golf sports has grown exponentially in the past couple years. According to the Professional Disc Golf Association (PDGA), the number of registered PDGA players has risen to over 16,000, with hundreds of thousands of others playing casually.The prize purses at disc golf tournaments have grown to a total of over $2 million.
This year's Disc Golf Pro-Am World Championship will be in Charlotte. This will be Charlotte's third time hosting the tournament and the first time since 1997.The tournament will be split up by divisions, with 25 divisions competing this year, and will be played at 14 different courses. Phd Productions will be at the event to promote the Pocket Disc and LunaDisc.
LunaDisc Will Add A Fun Dimension To Flying Disc Games
Phd Productions also sells to many others who enjoy indoor and outdoor flying disc games.
The company has created a popular game, iGolf, that takes disc golf and customizes it for indoor play. There are also many variations of the game, and players are encouraged to develop their own style of play. There are many other games listed on their website: http://www.pocketdisc.com/games.php
"We're excited to expand our market with the new LunaDisc," said Phd Productions Co-Founder Patrick Groft. "We think it will be a fun, hot toy this holiday season and a great gift for kids of all ages."
The last day to pre-order the LunaDisc on Kickstarter is August 5.
About Phd Productions
Phd Productions, LLC, the creator of the Pocket Disc, is based in North Carolina. Pocket Discs can be purchased at a variety of retailers nationwide including LL Bean, Eastern Mountain Sports, Learning Express Toys, many independent Play-It-Again Sports and over 1,500 specialty toy, gift and outdoor retailers. For more information and a store locator visit http://www.pocketdisc.com.