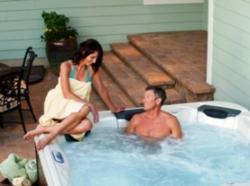 "The results show that hot tub therapy really can help you feel younger and probably improve your long-term health."
Salt Lake City, UT (Vocus/PRWEB) April 01, 2011
Bullfrog International, manufacturer of innovative Bullfrog Spas, says Hot Tub Time Machine is not just a recent movie with an improbable premise. Citing recently published scientific reports by the National Aquatics and Sports Medicine Institute (NASMI), Bullfrog Spas points out that hot tubs actually provide meaningful health benefits that can rejuvenate and help people maintain their health at any age, turning hot tubs into time machines.
Jaden Kemp, Director of Sales and Marketing at Bullfrog Spas, commented on the recent science: "It's exciting to see what science is discovering about hot tubs and hydrotherapy." Kemp continues, "The studies on individuals above age 45 are especially interesting. The results show that hot tub therapy really can help you feel younger and probably improve your long-term health."
Anecdotal evidence supporting the rejuvenating health benefits of warm water hydrotherapy has been around for centuries. Nearly every culture has believed that soaking in warm springs seems to help one feel better and live longer. The many fountain of youth stories from various cultures probably had their beginnings with warm springs that were observed to have healing and rejuvenating powers.
Recent NASMI research now seems to show empirically that hydrotherapy in a hot tub can produce beneficial health effects that help one live longer. These include but are not limited to increased circulation, decreased stress on the heart, and, perhaps most interesting of all, a balancing effect within the autonomous nervous system that lowers stress and produces an ongoing sense of well being.
Bullfrog Spas reminds us that even though the movie, Hot Tub Time Machine, is not based in fact, the effects of hot tub therapy are a lot like a real hot tub time machine. A hot tub isn't going to magically transport you back to your youth, but science just may have proven that a half hour or so of spa hydrotherapy everyday can help individuals to feel younger and to stay healthy longer. In effect, a spa takes one back in time.
For more information on NASMI visit http://www.education.wsu.edu/research/nasmi/ and for more on hot tub hydrotherapy contact Bullfrog Spas today.
# # #