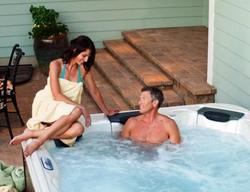 We feel like winning this award several times now is a good indication that our efforts to produce the finest spas in the industry and to run an exemplary company are paying off
Riverton, UT (Vocus) May 21, 2010
Bullfrog International, manufacturers of innovative portable hot tubs, is pleased to accept another Best of State Award for excellence in the Pool & Spa category. This marks the 5th time that Bullfrog Spas has won the award. The award will be presented at the Best of State Awards Gala on May 29, 2010.
The Best of State Awards program presents awards to individuals and businesses that demonstrate excellence in service, performance and quality. The organization explains its mission: "The Best of State Awards were created to recognize outstanding individuals, organizations and businesses in Utah. By recognizing excellence in our community and sharing examples of success and triumph in so many worthy endeavors, we hope we will all be inspired to reach a little higher, to try a little harder, and to work a little longer for our dreams and goals."
The story of Bullfrog Spas and the patented JetPak System® along with their growth from just a good idea for a better hot tub to what is now a strong selling international brand with industry-changing technology demonstrates Bullfrog's continuing hard work, efforts, and ingenuity. Bullfrog International has continually outperformed competitors and their industry averages and even showed near record net profits for 2009, no small feat for a luxury product manufacturer in today's economy.
Bullfrog Spas is pleased to accept another Best of State Award, the 5th Best of State Award for Bullfrog Spas. "We feel like winning this award several times now is a good indication that our efforts to produce the finest spas in the industry and to run an exemplary company are paying off," stated Dave Ludlow, CEO of Bullfrog International.
Bullfrog International and all the Best of State winners will continue to aspire to excellence and to strive to enhance the quality of life for those in the great state of Utah and around the world. To discover more about Bullfrog Spas please call today or visit bullfrogspas.com.
###