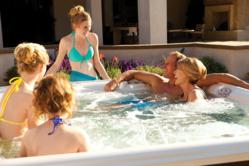 If you are going to purchase a spa, go to Creative Energy and check out the "Hot Spring", they are the only spa to own.
San Mateo, CA (PRWEB) May 17, 2013
Creative Energy will celebrate this Memorial Day with a special "Pick Your Spa Promotion."
The Pick Your Spa Promotion allows customers to purchase a HotSpring® spa and pick from two of three outstanding promotions.
Over Memorial Day Weekend, customers who purchase a HotSpring® spa will receive two of the following: No sales tax on the spa purchase; Up to $1,000 in free hot tub accessories (does not include the ACE salt system) or 12 months same as cash financing (O.A.C.).
HotSpring® spas are the most energy efficient on the market, tested, and proven. These hot tubs and spas are also the greenest in the industry and are made using recyclable parts. They are totally insulated with multiple layers of high density, polyurethane foam, the same material used to insulate commercial freezers.
The spa is the perfect way to enjoy a relaxing retreat or a place to entertain friends and family. HotSpring® spas are designed to include entertainment options such as an integrated MP3 sound system incorporated into the spa cabinet, wireless sound system featuring an iCast™ transmitter and wireless television for maximum entertainment.
For more information, stop into their service center at 3419 Regatta Boulevard in Richmond or call 510-237-2300.
About the company:
Creative Energy Corporation, founded in 1975 by Rolf Engelhard and Denis Kasten, is the Bay Area's exclusive HotSpring® Portable Spa dealer. A family owned and operated business, Creative Energy provides award-winning hot tub, spa tubs, wood burning stoves and gas fireplace service to thousands of satisfied customers at their Bay Area locations in San Rafael, San Mateo, and Pleasanton.
Creative Energy's mission is to be the top spa dealer and service provider in the world. They will accomplish this by retailing the highest quality spa in the industry while maintaining the most knowledgeable, dedicated staff.
For more information visit their website at http://www.creativeenergy.com.