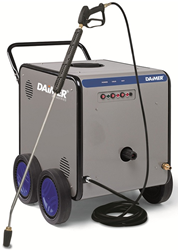 Daimer® is excited to introduce a truly powerful, electric hot water pressure washer, targeted to clean most hard surfaces more thoroughly.
Woburn, MA (PRWEB) June 27, 2013
Daimer Industries, Inc.®, globally known as the reputed vendors of various types of advanced cleaning systems, has introduced the Vapor-Flo® 8810, an advanced electric mobile pressure washer with a high pressure level of 2030 psi and a flow rate of 1.4 gpm. The high-quality electric pressure washer is designed to deliver stellar cleaning performance in some of the toughest cleaning conditions, such as while maintaining candy manufacturing units.
"Candy manufacturing plants run the risk of food contamination because the conditions are ideal for salmonella growth. Unfortunately, the cleaning and maintenance of most of these plants is still performed using conventional methods, which often fall woefully short of the stringent cleaning demands within such facilities," says Matthew Baratta, spokesperson of Daimer Industries, Inc.®. "Daimer® is excited to introduce a truly powerful, electric hot water pressure washer, targeted to clean most hard surfaces more thoroughly. Maintenance staff within candy manufacturing units and similar food manufacturing facilities can now achieve the best cleaning results more easily using our advanced pressure cleaners."
The rugged hot water pressure washer, due to its high temperatures, can deliver effective cleaning results. They are the best eco-safe cleaning machines for dissolving food and greasy matter on stainless steel, conveyor belts, and many other equipment and surfaces.
The Vapor-Flo®8810 is a trusted industrial pressure washer which offers heated and non-heated cleaning features. The all-electric heating system can reach a high of 175°F. A sturdy boiler-based heating system can convert cold water to hot with approximately 20 seconds. The best pressure is powered by a heavy-duty 3.0 HP motor, which gives the machine the dual advantage of power and efficiency. Larger areas can be cleaned by using the 25° stainless steel spray nozzle, as it gives a wider spray pattern.
The reliable commercial pressure washer is the perfect cleaning machine in food processing industries where water is not available in adequate quantities or where there are water runoff concerns. Optimum cleaning power is achieved by these machines even with a low flow rate of 1.4 gpm, which is another good reason to consider the Vapor-Flo® 8810.
Cleaning machines powered by fuel, such as advanced gas pressure washer systems, are not permitted within most food manufacturing and processing units. Candy manufacturing units which produce chocolates, jelly beans, and various types of candies cannot use gas pressure washer machines, as they emit exhaust and fumes. Cleaning professionals welcome the availability of an advanced cleaning system that is driven completely by electricity.
The Vapor-Flo® 8810 is a high-powered commercial pressure washer designed especially to meet the challenging cleaning requirements of food production and processing units. The electric pressure washer helps maintenance staffs clean while abiding by the regulations that prevent the use of machines that run on fossil fuels.
Daimer®'s pressure washer systems also come with Automatic Shutoff Technology™ (AST™) that powers off the machine when not in use for 30+ seconds. Users can turn on the machine when the trigger gun is pulled.
The Vapor-Flo® is an extremely durable machine, as the steel casing of this pressure washer is powder coated, protecting it from chemical corrosion and chipping. The continuous use feature helps operators in cleaning larger areas without having to interrupt operations mid-way.
The 32 feet high pressure, double layered hose gives operators a wider reach. The system is available in both 60 and 50 HZ power for use all over the world.
For Additional Information:
To obtain more details about the Vapor-Flo® 8810 pressure washer, call Matthew Baratta directly on (888) 507-2220 or visit Daimer®'s official website. The pressure cleaners and all other products featured on the website are marketed to customers in most countries.
About Daimer Industries, Inc®:
Daimer Industries, Inc.® is a global leader in supplying advanced cleaning machines, including commercial floor cleaning machine models, steam cleaners, mobile carpet extractor machines, natural gas pressure washing systems, varied auto detailing machines like many rugged car wash systems, and multi-purpose hard floor cleaners, for almost all types of cleaning applications within North America and all across the world.