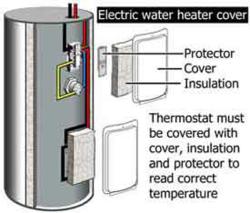 Don't adjust the water heater thermostat above its factory setting of 120◦ F. Water at temperatures above 120◦ F can scald badly, and it's easy to break a bone falling in the tub trying to avoid the hot water if accidentally, the wrong knob gets turned.
Pittsburgh, Pennsylvania (PRWEB) August 24, 2012
"The upper thermostat contains an overload switch (the red button) and an adjustable temperature control," says Mr Rooter president, Bob Beall. At the factory the thermostat is set at 120◦ F. But if the thermostat malfunctions, according to Mr. Rooter, and the water gets too hot, "the sensor will remove power to the water heater." If there is no hot water, this red button is the first thing you test (by pushing it back in). "If it continues to pop out," says the most referred plumber in the Pittsburgh Pennsylvania area, "it's time to replace the thermostat."
Mr. Rooter's Tip Of The Day
Tip #1 To replace the thermostat, first turn the power off. Then remove the top cover with a 1/4-inch hex-head wrench or screwdriver. Set both the cover and screws aside.
Tip #2 Snap off the vertical plastic cover that isolates all the electrical screws.
Tip #3 Exposed, the upper section is the overload unit, the top four screws. Below that is the actual thermostat itself with a temperature adjustment. Notice the factory setting at 120◦ F.
Tip #4 Make a sketch of the thermostat and log what color wires go where, then loosen the screws and pull the wires to the side with needle-nose pliers.
Tip #5 The thermostat is held to the tank with two spring tension clips, on the bottom left and bottom right. Pull these out–first one side and then the other–with needle-nose pliers, while you slip the thermostat out from the heater.
Tip #6 The new thermostat should look exactly like the one you removed. Insert the new thermostat back under the clips and reattach the wires.
Tip #7 Put the covers back on and reapply the power.
WARNING: Don't adjust the water heater thermostat above its factory setting of 120◦ F. Water at temperatures above 120◦ F can scald badly, and it's easy to break a bone falling in the tub trying to avoid the hot water if accidentally, the wrong knob gets turned.
There's A Reason They Call Us Mr.™
Debra Santavicca, PR, SMM, WebIT
Mr. Rooter Media Center
724-553-9510
http://www.rooter2.com