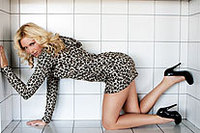 We use the most fun, and sometimes outrageous fabrics, including faux furs, faux suede, recycled polyesters and organic cottons.
Malibu, CA (PRWEB) April 22, 2009
While it seems everyone has put frivolous purchases on hold, two women have launched OgieKanogie.com, a line of affordable, machine washable, ultra chic women's clothing--just at the right time for thinner pocketbooks.
Now women can grab-and-go-anywhere with Ogies for all seasons and all occasions, from beach to ballgame to an elegant evening out. Ogies are machine washable, affordable and always include free domestic shipping both ways. Online shopping is easy and customer service is personal and attentive.
Coats for summer? Some Ogie coats are designed to give just a whisper of warmth, perfect for air conditioned theaters and malls, or a chilly night at the shore. Instead of a shawl, throw the Savannah or Miami over a light summer outfit, and you're good to go. A long Ogie adds a bit of sophistication to any outfit.
Ogie dresses offer a sexy profile to perk up a wardrobe without breaking the bank. The Bora Bora Ogie and Serengeti are eye-catchers! Dresses & tops are comfy and versatile and start at only $45 (including free domestic shipping both ways.)
Ogie Kanogie owners Jamie Hormel and Massiel Bueno, friends since childhood, are proud to offer superior quality and style at reasonable prices in today's market. Online shoppers themselves, the two women believe the buying experience should be easy and enjoyable.
"We're a new company and we want people to take a chance on us," says Hormel. "That's why we're not charging our customers for shipping or return shipping. We want them to shop with us and know that it's not going to cost them to make a return. We also make sure that our prices remain reasonable, that customer service is personal and attentive and that our online store is really easy to navigate."
"Our goal is to design products that appeal to a wide range of ages and tastes, that are affordable, and made in the USA of eco-friendly materials," says Bueno. "We use the most fun, and sometimes outrageous fabrics, including faux furs, faux suede, recycled polyesters and organic cottons."
Many celebrities discovered Ogies and can't seem to get enough. Jennette McCurdy of I-Carly says "Oh my Gosh! It's awesome, it rocks. I'm going to wear it to the set. It's so cold, even in the summer."
Leeza Gibbons called Ogies some of her "new favorite things." And Carmen Perez says, "It's hot, cuddly, and feels amazing!"
It was Massiel who designed the first Ogie. Frustrated because she couldn't find perfect coat to slip into after surfing, she decided to design and make her own. After receiving loads of compliments, she took her new coat to her friend Jamie and the two decided to go into business together. Now, if Massiel is not working on her Ogie Kanogie designs, you can usually find her catching waves in Malibu, CA where she lives and is the mother of two.
Jamie Hormel might live in the desert but she's known to feel cold all the time, even during the sizzling summers when super-charged air conditioning seems to be everywhere. Her summer Ogie favorite is the Miami, perfect for malls, movie theaters, restaurants and grocery stores. Jamie is the mother of three, and has five dogs, a pot bellied pig, two miniature donkeys, and a variety of horses. She lives in Phoenix, Arizona.
Family oriented, Jamie and Massiel have included their teenagers in the business, gathering their input on styles, fit, fabrics and even the company name. Many new ideas come from the kids, and some of the designs have to pass their critical judgment before making the cut.
Please contact Jamie Hormel, 480.414.3633 or Massiel Bueno, 310.663.8915 for more information, or visit OgieKanogie.com
###