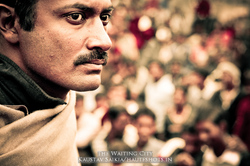 No matter how a character appears on the page, I like to take the type out and play him in stereo
Los Angeles, CA (PRWEB) September 16, 2009
Outside a Western-style night club in Kolkata, India, a rustic Indian man in a mustache and a blanket thrown across his shoulder is told by bouncers that he can't get in. It might seem that the bridge that separates him from the western world is far too difficult to cross. Except, the man in the mustache is Samrat Chakrabarti - British-born American actor of Indian descent, and star of numerous Hollywood films and TV shows. He is still in character, having just finished the day's shoot on his latest film "The Waiting City" in which he plays the pivotal role of Krishna, a local hotel worker.
"The Waiting City" is the story of an outwardly happy Australian couple who journey to Kolkata to collect their adopted baby, but on arrival finds that the arrangements at the agency have yet to be finalized. They have no option but to wait in this place that, to them, is chaotic and foreign. But as the intoxicating mystic powers of the Indian city pull them each in separate and unexpected directions, the vulnerability of their marriage begins to reveal itself. Krishna befriends the couple and helps them find their way. Directed by Claire McCarthy and starring Radha Mitchell and Joel Edgerton, the film premieres at the Toronto International Film Festival on Thursday, September 17, 2009.
So how does an American actor get cast as an Indian from India in an Australian production, anyway? The East and the West have each held a lure for the other since the ages, albeit for different reasons. But in today's complex globalized world, the sense of "other" itself seems to be dissipating. As our work and indeed, our lives, are increasingly intertwined with those of our counterparts across the world, it shouldn't be surprising that like everything else, the world's movie industry is also becoming increasingly decentralized. No doubt, Hollywood will still continue to dominate most of the world's movie market for years to come. But it is being challenged by independent cinema like never before. As if acknowledging this, Hollywood itself is going global, even going as far as producing Bollywood films outright. And Chakrabarti, through his uniquely genuine roots in cultures on either side of the world, effortlessly steps in and out of both. In fact, he chooses to live on the cutting edge of this new paradigm; instead of confining himself to Hollywood, he lends himself to productions from across the world.
A look at Samrat's recent work gives an idea about his astonishing versatility. Besides mainstream Hollywood fare such as Law & Order (NBC), The Sopranos (HBO), Love Monkey (CBS) Hope and Faith (ABC), and a recurring role in season 2 of the critically acclaimed TV series Damages (FX), Samrat also stars in the upcoming Italian production "Behind the Bodice" alongside Irrfan Khan ("Slumdog Millionaire", "The Namesake", "A Mighty Heart"), the Bengali language film "Dwando", the Indian independent film "Bombay Summer", the American independent films "Kissing Cousins" and "Loins of Punjab Presents", and even a cameo in a new production from Bollywood's Yash Raj films starring John Abraham. As if in recognition of his talents, Samrat was recently invited to workshop a few scripts at the prestigious Sundance Labs.
When a reporter recently asked him if he feels like he is helping reinforce racial stereotypes when he plays an Indian character, he replied, "No matter how a character appears on the page, I like to take the type out and play him in stereo". Having constantly fought stereotypes until recently, and having successfully broken them with roles ranging from a capella singer Will Wozniak in "The Wedding Weekend" to Krishna, the Kolkata hotel worker in "The Waiting City", Samrat continues to bring a genuineness to each of his characters.
Every year sees new treasures from independent film makers from around the world. And while the gap between America and Asia may still be a bit daunting for some people on either side, Samrat Chakrabarti does not need a bridge to get across, for he IS that bridge.
###