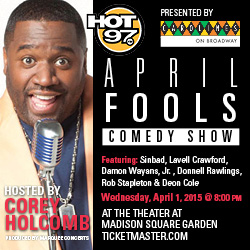 "This is the original annual all-star show, where over the years, we have showcased the biggest names in comedy..."
New York, NY (PRWEB) March 03, 2015
(UPDATED March 14, 2015) Marquee Concerts is once again pleased to produce the annual HOT 97 April Fools Comedy Show presented by Caroline's on Broadway on Wednesday, April 1 at 8pm at The Theater at Madison Square Garden in New York City. Corey Holcomb hosts a lineup featuring some of today's best comics including Sinbad, Lavell Crawford, Damon Wayans, Jr., Donnell Rawlings, Rob Stapleton, and Deon Cole.
"This is the original annual all-star show, where over the years, we have showcased the biggest names in comedy," notes Bill Zafiros, co-founder of Marquee Concerts. "We are pleased to present another evening of incredibly funny and edgy comics at Theater at Madison Square Garden."
Going from hanging in the hood to performing comedy on Jay Leno's "Tonight Show" (with the privilege of being invited to take a seat on the "couch" afterwards), has been a long and fulfilling journey for Corey Holcomb who hosts the 2015 Hot 97 April Fools Comedy Show. Corey has taken top honors at the Miller Genuine Draft Comedy Search, Budweiser Comedy Competition, Chicago Home Jam, and Laffapalooza. Film and TV credits include "The Wedding Ringer," TV's "Last Comic Standing," BET's "Comic View," "Mad TV," Comedy Central's "Premium Blend," HBO's "Def Comedy Jam," Tyler Perry's "House of Pain," and recurring roles on "Black Jesus," "The Cleveland Show"and "Half & Half." He has also had 3 comedy specials of his own, Corey Holcomb: "The Problem Is You," Comedy Central Presents: "Corey Holcomb," and Corey Holcomb: "Your Way Ain't Working."
Sinbad is one of the most well-known names in comedy. His big break came as a "Star Search" contestant in the early 1980s, winning 10 times. Soon he was an in-demand performer and landed a role on the TV sitcom "The Redd Foxx Show" as Foxx's son. A recurring role on "A Different World" (1987-1991) followed and from 1989-1991, he hosted NBC's "Showtime at the Apollo". Sinbad continued to perform stand-up and became known for his offbeat yet clean humor. He went on to star his own sitcom, "The Sinbad Show" (1993) and appear in films, costarring with Arnold Schwarzenegger in "Jingle All the Way" and in "Houseguest" with the late Phil Hartman. He continues to appear in films and on TV, where in 2011, he had his own reality show, "Sinbad: It's Just Family."
Perhaps best known for his role as Huell on "Breaking Bad," Lavell Crawford next hits the big screen alongside Kristen Stewart, Jesse Eisenberg, and Uma Thurman in "American Ultra." As a comedian, Lavell is one of the hottest artists breaking out of the urban scene in years. With his original voice and consistent wealth of new material, he's had sold out shows, major arena tours as headliner and closer, and performs at colleges, casinos, and clubs across the world.
In 2005 Damon Wayans, Jr. followed his father's comedic foot steps and braved the world of stand up comedy under the pseudonym Kyle Green. Since then, Damon Jr. has appeared alongside his father in the Showtime sketch comedy television series, "The Underground" (2006) and also served as a writer on the series. He also wrote, directed and starred in a series of innovative internet-based comedy sketches for "Way-Out TV" a website launched in 2007 by his father, Damon Wayans Sr. In January 2008 Damon Jr. was featured on HBO's "Def Comedy Jam." Recurring roles on the TV series "Happy Endings" (2011-2013) and "The New Girl" (2011-2015) followed. Damon continues honing his stand-up skills, performing in comedy clubs across the country, while further pursuing his crafts of acting and writing.
Donnell Rawlings made a splash in DC comedy clubs going from a heckler in the audience to HBO's Def Comedy Jam in 6 months time. He's appeared as 'Ashy Larry' on Comedy Central's, "Chappelle's Show," where he joined Dave Chappelle as both a writer and performer. His 1-Hour Stand-Up special "Ashy to Classy" premiered on Comedy Central in 2010. In 2014, he appeared with Dave Chappelle at Radio City Music Hall and also starred in his own show as Judge Rawlings on MTV2's "Guy Court," as well as appearing for another season on MTV2's "Guy Code".
Known for his high-energy act, Rob Stapleton's keen observational style has led to numerous TV appearances including stints on popular shows such as HBO's "P-Diddy's Bad Boys of Comedy," "Live at The Nokia with Mike Epps," "Jamie Foxx's Laffapalooza," and appearances on BET'S Comicview as well as his own half hour special on Comedy Central.
Deon Cole has been featured on "The Tonight Show with Conan O'Brien," "John Oliver's New York Stand-Up Show," "Laffapalooza," and "Mash Ups," plus his own "Comedy Central Presents: Deon Cole." After appearing on "The Tonight Show with Conan O'Brien" in 2009, he was offered a job as a staff writer and became known for his appearances as a commentator on the show. In 2010, he was nominated for his first EMMY and Writers Guild Award along with the show's other writers and was named one of the "Top 10 Comedians to Watch" by VARIETY. In 2011, he received his second Emmy Nomination for his work with the writers of CONAN and in 2013 starred in his own show for TBS called, "Deon Cole's Black Box." He currently appears as "Charlie" on ABC's Black-ish.
Tickets for the Wednesday, April 1st April Fools Comedy Show are priced from $49 to $125 and are on sale now at Ticketmaster.com, all Ticketmaster outlets, and at the Madison Square Garden box office. To charge by phone, call 800-745-300. For more details, visit MarqueeConcerts.com.
About Marquee Concerts
NYC based Marquee Concerts, one of the premier independent concert promoters in the Northeast, produces hundreds of events across all spectrums and genres. Marquee is constantly researching new music trends, recognizing today's up-and-coming entertainers, and expanding upon existing business relationships to put on the best shows possible and remain a competitive mainstay in the concert promoter's industry. Learn more at http://www.marqueeconcerts.com.
#