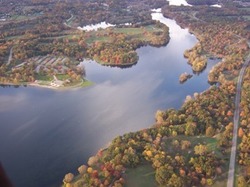 Flying OVER the fall colors in a hot air balloon is the best, says Scott Lorenz Chief Pilot of Westwind Balloon Company
Plymouth, MI (PRWEB) September 15, 2010
It's time to plan for the return of Michigan's spectacular fall colors and there's no better way to enjoy them than from a hot air balloon.
"Flying over the fall colors in a hot air balloon is the best," says Scott Lorenz, President and Chief Pilot of Westwind Balloon Company of Plymouth, Michigan. http://www.PureMichiganBalloon.com
"The palate of colors just takes your breath away," says Lorenz "I love taking photos from the balloon especially when we fly over Kensington Park, it's fabulous, it's ten times better than driving. People just have no idea how pretty it is until they get above it."
Lorenz has created a new video from last year's flights so that people can see what a flight would look like. In fact former Miss Michigan Gina Valo and New York literary agent Peter Miller joined Lorenz on a fall color flight depicted in the video. Check it out at: http://www.youtube.com/watch?v=2BDl12PjPqQ
Most balloon rides last about one hour and Lorenz flies over the woods and streams of Kensington Park and Island Lake State Park. He and several other pilot friends meet at Park 'n Ride area off Milford Road and I-96 (exit # 155) about 2 1/2 hours before sunset. From there he'll launch helium balloons, determine the wind direction, then take a short drive to one of nine launch sites in the area that give the best views and best landing sites downwind.
What to wear? Lorenz suggests passengers wear tennis shoes and jeans. He says the air temp "upstairs" is within a couple degrees of ground temp so it's not a factor. Cameras and video cameras are highly recommended to preserve the once in a lifetime moments while flying over the countryside.
Since fall color balloon flights are popular Lorenz suggests people call now to reserve a spot. Flights cost $695 for a private ride which is two passengers and the pilot. All flights are pre-paid. Visa, MasterCard, AMEX, Discover and PayPal are accepted. Gift certificates are available.
To really appreciate all of the fall color that Michigan has to offer, call a balloonist and schedule a flight today, the view is really better from above!
Westwind Balloon Company- Plymouth, MI, Flying over Kensington Park, Brighton, South Lyon and Milford. 734-667-2098 http://www.westwindcos.com/balloon Scott Lorenz, Pilot and Owner.
About Scott Lorenz
Scott Lorenz, President of Westwind Balloon Company, has been a commercial balloon pilot since 1982, and has logged 1,450 + hours as pilot in command in a hot air balloon. Scott's memorable ballooning experiences include: Flying over Niagara Falls, The Great Wall of China, Disney World, the Olympics in Calgary, St. Wolfgang, Austria, Saga, Japan, the Grand Prix in Spain, co-piloting one of two balloons for Mike Howard's Guinness World Record "balloon walk" flight at 19,000 feet, a 20 hour-361 mile Gas Balloon flight with Gordon Boring and handling media relations for Kevin Uliassi's Round the World balloon flights. Lorenz and his balloon exploits have been featured by FOX-2 News, Hour Detroit and The Detroit Free Press. A balloon flight on Westwind Co. was named "most creative date" by It's Just Lunch. Westwind Balloon Company is a member of the Detroit Chamber of Commerce and the Southeast Michigan Balloon Federation (SEMBA). http://www.PureMichiganBalloon.com Michigan Fall Color Video: http://www.youtube.com/watch?v=2BDl12PjPqQ
###