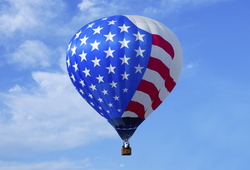 Organizing a live and silent auction is hard work--work that is largely performed by dedicated volunteers. These volunteers are eager to share their best practices. And, they are spreading the word about the turnkey solution available through FundraisingRides.org
Wilton, CT (PRWEB) December 13, 2007
This week FundraisingRides.org sold its 10,000th hot air balloon ride. The company, a division of Soaring Adventures of America, Inc., provides hot air balloon rides to non-profit organizations nationwide below cost on a consignment basis. The non-profit organizations use these hot air balloon rides as fundraising items in live and silent auctions.
The hot air balloon rides for two people that normally sell to consumers for $400 retail through Soaring Adventures of America are provided to non-profit organizations for $240 through FundraisingRides.org. Non-profit organizations put them in their auctions with the bids starting at $240. Most often, these rides are auctioned off at or above the retail price.
"Throughout our company history, we always offered special pricing to non-profit organizations who contacted us. Year after year, these inquiries grew. So, in 2003, we decided to formalize this process and make it simple and convenient for non-profit organizations to raise money with our hot air balloon rides. Everything they need is on our website--instructions, auction display materials and tips from other non-profit organizations who have raised money with our hot air balloon rides," says FundraisingRides.org Marketing Director, Jenna Wilkinson Roche.
The hot air balloon rides have broad-based appeal because they are good nationwide and are fully transferable. And, while FundraisingRides.org does promote its service in a handful of educational, community and religious publications, most of the sales growth is a result of word-of-mouth. "Organizing a live and silent auction is hard work--work that is largely performed by dedicated volunteers. These volunteers are eager to share their best practices. And, they are spreading the word about the turnkey solution available through FundraisingRides.org," explains Ms. Roche.
For more information on hot air balloon rides, visit http://www.SoaringAdventures.com and for more information on live and silent auction services visit http://www.FundraisingRides.org. Or, call Soaring Adventures of America, Inc. headquarters at (800) 762-7464 and request a Live and Silent Auction Kit.
About Soaring Adventures of America, Inc. and FundraisingRides.org:
FundraisingRides.org is the division of Soaring Adventures of America, Inc. that is dedicated to providing non-profit organizations with fundraising opportunities. A family business founded in 1980, Soaring Adventures is America's largest and most-trusted provider of recreational aviation rides.
###