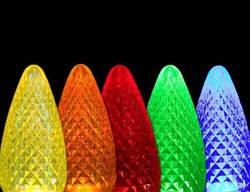 Alpharetta, GA (PRWEB) November 6, 2008
Georgia-based Christmas Lights Etc. (http://www.christmaslightsetc.com), the leading online retailer of premium Christmas trees, holiday lighting and decorations for homes, commercial decorators and businesses announces the Hottest Holiday Items of the Season for Christmas 2008. The list includes the latest trends in natural-looking Christmas trees, eco-friendly LED lighting, and economical and environmentally friendly yard decorations.
For 2008, more holiday shoppers are incorporating environmentally conscious products into their holiday decorating. Of particular focus are LED Christmas lights offering brighter and longer lasting bulbs that use up to 98% less energy than traditional incandescent lighting. This year more than ever, LEDs are being purchased as a cost conscious, energy saving alternative for lighting home fronts, rooftops and Christmas trees. Holiday LEDs come in a variety of shapes and color options. Available shapes include round, mini icicle and conical, in colors like clear, white, gold, blue, red, green, orange, yellow, pink and more. LEDs lights have become so popular that in fact that more and more Prelit Artificial Christmas Trees and wreaths are now being designed with LED Christmas lights on them.
In recent years, TruTip Artificial Christmas Trees have been introduced as natural-looking alternatives to forest cut trees, and this year consumers are leaning toward TruTip trees as long-term, economical solutions to achieving the natural look and feel of real Christmas trees without the annual expenditure that comes with repurchasing real trees year after year. Buying a live tree requires a trip to the tree farm, constant watering, special disposal and a crew of firefighters on watch every year at Christmas time. Artificial trees require none of these things and, in the case of TruTip trees, provide a similarly natural appearance with branches that hang in a realistic irregular pattern and tips that look and feel like their live counterparts.
Nostalgic items are also en vogue for 2008. Included in this group are Moravian Stars. These outdoor lamps turn typical evening outdoor settings into magical Christmas night scenes. The bright, 3-dimensional stars hang down from tree branches in the yard and cast a northern light onto any dark backdrop. Moravian stars come in a variety of luminescent colors and are an inexpensive way to add elegance and whimsy to your home. Also popular for the yard this year are Grapevine Outdoor Topiary Christmas Decorations. Outdoor Grapevine-made decorations offer consumers a natural alternative to traditional PVC crafted topiaries. These products come prelit and are produced from natural, recyclable grapevine wood material. They come in handcrafted versions of Santa's Reindeer and Sleigh and satisfy the needs of Christmas enthusiasts who like to design their front yards and roofs with seasonal settings and lifelike figures.
Finally, with economical concerns at the forefront for consumers in 2008, shoppers are encouraged to buy online as a way to reduce fuel costs and (in most circumstances) avoid paying taxes. Each of the hot holiday items included on this year's list can be found on sale on the ChristmasLightsEtc.com website. In addition to the many holiday values being offered this season, Christmas Lights Etc. is also providing tree customers with FREE shipping on all trees over $95.
For more information about Christmas Lights Etc., visit http://www.christmaslightsetc.com or call 866-962-7382.
About Christmas Lights, Etc.
Established in 2000, Christmas Lights, Etc. is a nationwide leading online retailer of premium TruTip Christmas Trees, Christmas Lights, Christmas Garland, Christmas Decorations, and Christmas Ornaments. Their products have been featured by the CBS Early Morning Show, Smart Money magazine, Wall Street Journal, and HGTV to name a few.
Contact:
Aaron Hassen, 866-962-7382, Ext. 5016
Email: media(at)christmaslightsetc.com
###