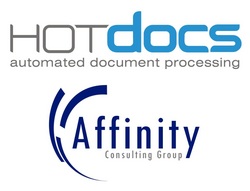 HotDocs Server is big-system software that catalyzes document production in some of the largest enterprises in the world
Lindon, UT (Vocus) June 8, 2010
HotDocs Corporation, the global leader in document and form automation technology, today announced that it has awarded Affinity Consulting Platinum Partner status. The Platinum distinction, which HotDocs reserves for only the most capable and established technology integrators, empowers Affinity to sell, integrate, and support HotDocs Server as well as all other HotDocs products throughout the United States and Canada.
HotDocs Corporation instituted the Platinum Partner program in 2009 specifically to leverage HotDocs Server, a technology that allows enterprise-wide deployment of HotDocs templates over the Internet.
"HotDocs Server is big-system software that catalyzes document production in some of the largest enterprises in the world," commented Leonard DuCharme, Marketing VP for HotDocs Corporation. "Integrating HotDocs Server into such environments requires more than just engineering expertise; it requires extensive knowledge of automated workflows and disparate technology classes. That's why Platinum status is reserved for a select few. We have long considered Affinity an elite HotDocs developer and recognize them as having the combination of skills, expertise, resources, and vision necessary to thrive in the large-enterprise server environment. We're excited to have Affinity as a Platinum partner."
"Up until recently, HotDocs Server was the domain of HotDocs Corporation's inside sales and consulting team," noted Barron K. Henley, Esq., founding Partner of Affinity. "When HotDocs announced its Platinum Partner program late last year, we were immediately interested. The HotDocs suite is easily the most powerful, flexible document automation platform available. HotDocs Server is the key to deploying HotDocs libraries on an enterprise-wide scale. Our Platinum Partner distinction allows us to push HotDocs into previously restricted venues and to integrate with our clients' existing workflows at a much deeper level."
HotDocs Corporation and the founders of Affinity Consulting have an affiliation that dates back almost two decades.
About HotDocs Corporation:
HotDocs Corporation is the recognized market leader in document automation and assembly software, serving over 500,000 users worldwide, including 80% of the Am Law 200, 20% of the Fortune 500, and firms, corporations, and government agencies of all sizes. Having pioneered the concept of document automation and assembly in the late 1970s, HotDocs Corporation is now a wholly owned subsidiary of HotDocs Ltd.
About Affinity Consulting:
With five offices nationwide, Affinity Consulting offers a variety of legal technology products and solutions in the following areas: document automation; case and practice management; time, billing, and accounting; document management; document scanning and imaging; litigation support; advanced legal training in Microsoft Word, Outlook, PowerPoint, Excel, and Adobe Acrobat; digital dictation and speech recognition; and a wide range of IT services from hardware to help-desk.
Contact:
Leonard DuCharme
HotDocs Corporation
(801) 615-2210
Alison Lukan
Affinity Consulting
(614) 602-5573
###