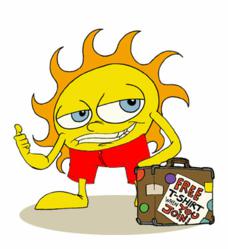 Rent My Vacation Home has rented homes to some of the contestants in the Coney Island.
New York, New York (PRWEB) July 03, 2012
Rent My Vacation Home dot com® has rented out houses in the USA and Coney Island, NY area for over 20 years.The contest started in 1916 and has never had a July 4th off for any reason.
The chances of reigning champion Joey Chestnut again being victorious are 1 in 4. The odds of another competitor (like this guy) taking Chestnut's crown are 5 to 2. And the over-under on how many hot dogs Chestnut will eat is 60.5, despite Chestnut's claims that his body was built to eat 68.
All across the United States in Florida and California there are many events that enable home owners to receive very lucrative rental contracts during this time of year for special July 4th events.
Some of the other areas that have no vacancy on Rent My Vacation Home dot com are all the beach areas and anywhere along a parade route or where fireworks can easily be seen. This gives the vacationer a chance to really have the best time right from their vacation rental home.
This can be extremely affordable here is how. A house rents for 2,000 a week and with 4 bedrooms and 3 bath it can easily hold 4 couples who split the cost of the home. That means each person pays only 35.71 a day for a vacation home on a parade route or beach with a great view.
Rent My Vacation Home dot com® with over 70,000 listed vacation homes offers a free listing on 83 web sites for the July 4th celebration. Just type the coupon word July 4 and the listing is free. You just fill in 1 form and click-it and it's listed and on 83 web sites.
Rent My Vacation Home®
800-699-7684
By Jay Kalin
http://www.rentmyvacationhome.com