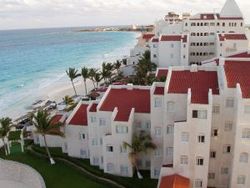 (PRWEB) March 20, 2008
Travelers and movie buffs alike have long ventured to memorable destinations that have earned their distinction by serving as the setting for a hit movie production. In this month's Orbitz Insider Index (http://www.orbitz.com), the Insiders look beyond New York City and Los Angeles, to find some of the top film-friendly cities in the U.S., where travelers can visit the sites of some unforgettable blockbuster films as part of their vacation.
As culture-rich cities like Boston and Chicago have been the settings for some memorable movies like Good Will Hunting, The Departed, The Untouchables and many others, cities like Las Vegas and Austin are also climbing the ranks. To further recognize Las Vegas as a fashionable film destination, Orbitz is partnering with Sony Pictures and the Las Vegas Convention and Visitors Authority (LVCVA) on the release of the new movie, 21, filmed in Las Vegas. During this "21 Trips in 21 Days" promotion, Orbitz will award one trip per day for 21 days to participating consumers (see details below).
Orbitz's Favorite Film Cities
To help travelers plan a getaway to some of America's top movie locales, the Orbitz Insiders are highlighting some of the best places to relive your favorite films.
The Orbitz Insider Index Film City Destination Picks
Las Vegas, NV
Boston, MA
Chicago, IL
Austin, TX
San Francisco, CA
Washington, DC
Las Vegas, NV
The ostentatious display of money, casinos, and mega-hotels that signify Las Vegas and "The Strip" make it the perfect setting for movies, ranging from classics such as Elvis: That's the Way it Is and Diamonds are Forever to Austin Powers: International Man of Mystery and the Ocean's series of movies (Ocean's Eleven, Ocean's Twelve and Ocean's Thirteen). Las Vegas was also the backdrop for films such as Fear and Loathing in Las Vegas, Casino, and Leaving Las Vegas, where landmark hotels such as the Mirage and the Bellagio are featured prominently. In addition to their "role" in Ocean's Eleven, the famed "Fountains of Bellagio" made their way into a number of other productions. The upcoming release of 21 is set on the blackjack tables and other locales in and around Las Vegas hotels and casinos.
Boston, MA
Boston's charm, history and personality have long made it a popular spot for movie producers. The numerous colleges and universities in Boston have provided a collegial backdrop for movies such as Good Will Hunting, which was filmed on the campus of MIT. Visitors to Boston hotels can ride the same Red Line train that carried Matt Damon in Good Will Hunting and Martin Sheen in The Departed, and disembark at Park Street Station to visit the State House and its golden dome shown in The Departed as well as Amistad. No trip to Boston is complete without a visit to historic Fenway Park, which played a leading role in the movie, Fever Pitch. The city recently offered tax breaks to Hollywood, which may inspire more future productions to consider Boston.
Chicago, IL
The picturesque Chicago skyline and infectious excitement of Wrigley Field were immortalized in eighties classics like Ferris Bueller's Day Off, Risky Business, Sixteen Candles and The Breakfast Club. Not since Ferris Bueller's Day Off has a movie shown as expansive a view of Chicago, which notably inspired a tour that begins in the suburb of Glenview and stops at the Sears Tower, the Chicago Art Institute, the Board of Trade and Wrigley Field, home of the Chicago Cubs. The classic Al Capone movie, The Untouchables, features an epic scene at Union Station, while the elevated train system known as "the El" provided the backdrop for films including While You Were Sleeping, The Fugitive and others. There are many hotels in Chicago to stay at during your travels.
San Francisco, CA
From the inception of film to present day big-screen productions, San Francisco has long been a magnet for producers seeking a dramatic movie location or a hilly car chase scene. San Francisco was the setting for the first "talking picture," the Jazz Singer, in 1927. More recently, films shot in San Francisco include Basic Instinct, Dirty Harry, The Joy Luck Club and The Rock, which extensively features Alcatraz Island. Fans of the Hitchcock thriller Vertigo can visit the exact spot where Kim Novak jumped into the water and was saved by Jimmy Stewart. A recent film shot largely in San Francisco is Pursuit of Happyness, which includes scenes from Candlestick Park and the Glen Park subway station. There are many cheap San Francisco hotels available.
"21 Trips in 21 Days" Promotion
Orbitz is partnering with Sony Pictures and the LVCVA on the release of the new movie "21", which is based on the best-selling true story Bringing Down the House. The film tells the story of how a group of mastermind M.I.T. students, needing to pay college tuition fees, devise a plan to take black jack tables in Las Vegas for millions of dollars.
Orbitz will award 21 trips to Las Vegas in 21 days as part of the promotion. Prize packages are based on the movie and include: First-class flight to Las Vegas, two nights accommodations in a Las Vegas hotel suite, show tickets, limo from airport, VIP nightclub passes and a $100 shopping gift certificate from Fashion Show Mall. To participate, go to Orbitz.com/21movie to play a memory-based card game and you're entered to win.
The promotion launched March 17, 2008 and ends April 16, 2008.
About Orbitz Worldwide:
Orbitz Worldwide (NYSE:OWW) is a leading global online travel company that uses innovative technology to enable leisure and business travelers to research, plan and book a broad range of travel products. Orbitz Worldwide owns and operates a portfolio of consumer brands that includes Orbitz, CheapTickets, ebookers, cheap hotels service HotelClub, last minute hotels service RatesToGo and the Away Network and corporate travel brand Orbitz for Business (http://www.orbitzforbusiness.com/). For more information, visit the Orbitz Worldwide Investor Relations website at http://www.orbitz-ir.com.
###