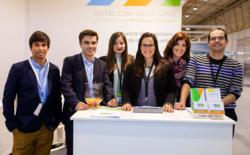 We are able to help smaller accommodation providers increase their online visibility through an optimized and simple process
Lisbon, Portugal (PRWEB) April 10, 2013
Hotel Links Solutions used the occasion of the Lisbon Tourism Fair (BTL), which took place from the February 27 to March 3, 2013, in Lisbon, to officially launch in Portugal and present its solutions to the national market. BTL is the leading tourism event in Portugal, bringing together hotels, travel agencies, airlines and other companies involved in tourism and hospitality. As key professionals participate in or visit the fair, it was a perfect opportunity for Hotel Link Solutions Portugal to showcase its digital-marketing products for small- and medium-sized accommodation providers.
With a well-designed and sophisticated stand, the Hotel Link Solutions Portugal team stood out from the crowd and drew the attention of many potential clients, including the likes of Lisbon Guests, which is already using the Hotel Link Solutions system and reaping the benefits.
The Hotel Link Solutions Portugal stand was particularly appealing to small-business operators like Rural Tourism Houses, a model of the kind of modest enterprise that has seen great success in tourism in Portugal. Hotel Link Solutions Portugal product is perfectly aligned with such smaller entities' desires to establish a stronger presence in the market.
During BTL, Hotel Link Solutions Portugal also took advantage of the presence of competitors to meet them and learn about the marketplace. The team welcomed the chance to discuss with visitors the relative benefits of different systems and the value in switching to Hotel Link Solutions.
"We found our product to be very consistent with others, but also well structured and perfectly adapted to use by smaller accommodation providers, able to help them increase their online visibility through an optimized and simple process," said Pedro Costa, CEO of Hotel Link Solutions Portugal.
During the Lisbon Tourism Fair, Hotel Link Solutions Portugal organized daily presentations geared to a general audience, including How to Increase Online Sales and a Social Media Master Class during which facts that communicated the importance of being present in social media were shared with hoteliers.
"The presentations helped attract prospective clients and created awareness of the brand," concluded Inês Menano, Sales Manager for Portugal. "Definitely, BTL was a great opportunity for us and helped propel us into the market."
About Hotel Link Solutions
Hotel Link Solutions is a first-generation digital-marketing services provider for the accommodation industry. As a WHL Group and ResOnline joint venture, Hotel Link Solutions has tapped deep resources and wide industry reach to develop a world-class and competitive range of products. Hotel Link Solutions is committed to building a sustainable future for travel and to ensuring that all relationships with clients, staff, business partners and host communities are win-win.
For more information, visit hotellinksolutions.com or contact Pedro Costa at pedro(at)hotellinksolutions(dot)pt, +351 217 930 144.