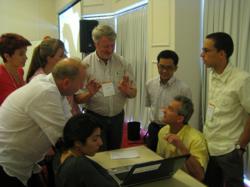 Hotel Link Solutions provides comprehensive digital-marketing solutions directly to accommodation providers.
Hanoi, Vietnam (PRWEB) February 16, 2012
As the Internet has increasingly become a shopping outlet of choice for many consumers, would-be adventurers in ever greater numbers seek travel inspiration on the Internet, as well as the means by which to book it. However, research reveals that many independent hotels still have not grasped the central commercial importance of online reservations and often have not included a dynamic booking facility on their websites.
Armed with this knowledge, Hotel Link Solution s offers an easy-to-understand and complete technology package that integrates all the principal hospitality-industry supports presently available in the e-marketplace, including a booking engine, social media packages and channel management.
As part of the WHL Group – the largest local-travel company in the world, a global network of companies with extensive experience developing technology for travel operators both the developed and developing world – Hotel Link Solutions provides comprehensive digital-marketing solutions directly to accommodation providers.
Recent reports suggest that Hotel Link Solutions is responding to demand in a growing and promising market. In one instance, the third quarter of 2011 saw a 6.1 percent increase in room nights sold directly via official hotel websites as compared with the same period in 2010.
"We have been working with small hotels from all over the world for almost 10 years and long recognized that most of them still don't have a consistent web presence," says Len Cordiner, CEO of the WHL Group. "But we've also been witness to the success of the few hotel owners that seek to market their own small businesses online. They often reap the positive reward of an increase in room bookings."
Hotel Link Solutions has therefore developed a cost-effective and fully optimized technology package that addresses hotels' primary online needs. The offering includes attractive websites through which travelers can make direct bookings, as well as a booking widget that can be plugged into any existing website.
"We offer a very customizable solution," explains André Franchini, CEO of Hotel Link Solutions. "And, most important, we sell it for a fraction of what can be found anywhere else."
Hotel Link Solutions has turned its attention mainly, but not solely, to emerging markets where the type of technology it provides is not yet available. Still in its beta release, Hotel Link Solutions is presently overseeing a handful of pilot projects in the Philippines, Brazil, Sri Lanka, Seychelles, Fiji and Tonga.
About Hotel Link Solutions
Hotel Link Solutions has a singular focus on providing digital-marketing solutions for the accommodation industry. As a WHL Group company, Hotel Link Solutions has tapped deep resources and wide industry reach to develop a world-class and competitive range of products. With staff that has extensive experience in the accommodation industry ranging from IT and Web marketing to owning and operating hotels, Hotel Link Solutions is committed to building a sustainable future for travel and to ensuring that all relationships with clients, staff, business partners and host communities are win-win.
About WHL Group
The WHL Group is the largest local-travel company in the world. It is both a global network of companies that help travelers find unique ways to experience a destination through local tourism professionals, and a technology provider to those local tourism operators. WHL Group companies empower local partners who have practice in experiential and mindful travel, and a local's knack for identifying, explaining and sustaining the distinctive qualities of a place.
For more information, visit http://www.hotellinksolutions.com or contact André Franchini at andre(at)hotellinksolutions(dot)com, +55 31 8448-4240 (Brazil) or +84 1226367221 (Vietnam).
###