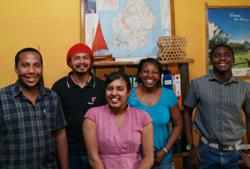 Hotel Link Solutions' collection of modular tools is able to satisfy everyone's needs
Port Louis, Mauritius (PRWEB) January 24, 2013
Following its expansion in the Philippines, Vietnam, Latvia and across the South Pacific, Hotel Link Solutions has just announced a new partnership in Mauritius. The company has licensed its software system to Pixel Edifice Ltd., a local creative-design, web-marketing and development business, as the exclusive sales agent of online solutions to local businesses in the hospitality sector in that country. A seasoned team with extensive experience in the hotel and tourism industry in Mauritius has been recruited locally.
Over the next 12 months, the team in Mauritius will establish a network of at least 50 accommodations. The target audience for the suite of Hotel Link Solutions products is small- to medium-sized accommodations, particularly those that do not currently have an online-booking solution. Hotel Link Solutions Mauritius will first reach out to a range of accommodation types, such as self-catering apartments and villas, bed-and-breakfasts, guesthouses and more. Once embedded in those segments of the market, the company will turn to chain hotels seeking a cutting-edge channel-management solution like the one that Hotel Link Solutions Mauritius can supply.
"We understand that e-enabling small accommodations providers is the next step in Mauritius to improving the service quality and increasing revenue in the tourism industry," stated André Franchini, CEO of Hotel Link Solutions. "Also, by providing the right solutions to hoteliers, they will have more control of their online presence, which is key in any successful marketing strategy."
As accommodation and activity providers in Mauritius have different needs when it comes to improving their online presence, Hotel Link Solutions' collection of modular tools is perfect for a range of suppliers in any country. It is able to satisfy everyone's needs, especially as they improve their knowledge of the online booking business. Options include booking widgets for established websites, template-driven websites and channel management.
Over the last few years, the number of tourists traveling to Mauritius has steadily increased, although recently there has been a shift in the travelers' points of origin. Historically, Mauritius has appealed primarily to Europeans, but the market is now witnessing an upswing in the numbers of travelers from India and China, even as the ranks of Eurozone holidaymakers dwindle. The Mauritius government is doing its part to welcome the travelers by adding flights and improving visibility in the new markets.
After reaching out in Mauritius, Hotel Link Solutions plans to enlarge its area of focus to other islands in the Indian Ocean, especially Reunion. "We expect in the next three years that hotels off the coast of Africa will have a much more sleek online presence than at present, improving the customer experience and the local Mauritian economy," commented Franchini.
About Hotel Link Solutions
Hotel Link Solutions is a first-generation digital-marketing services provider for the accommodation industry. As a WHL Group and ResOnline joint venture, Hotel Link Solutions has tapped deep resources and wide industry reach to develop a world-class and competitive range of products. Hotel Link Solutions is committed to building a sustainable future for travel and to ensuring that all relationships with clients, staff, business partners and host communities are win-win.
For more information, visit http://www.hotellinksolutions.com or contact Nicolas L'Eveillé at mauritius(at)hotellinksolutions(dot)com, +230 427 10 56.