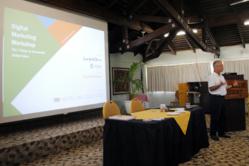 The program is designed to improve the online presence of... accommodations in the Pacific Islands by providing them with a professional e-commerce enabled website
Sydney, Australia (PRWEB) July 17, 2012
Through a special program sponsored by the South Pacific Tourism Organization (SPTO) and Pacific Islands Trade & Invest (PT&I), Pacific Island hoteliers across Fiji, the Cook Islands, Tonga, the Solomon Islands and Kiribati are now benefiting from a special suite of Hotel Link Solutions products and services for accommodations.
The program is designed to improve the online presence of as many small- and medium-sized accommodations as possible in the Pacific Islands by providing them with a professional e-commerce enabled website or room-reservation widget that allows for the instant processing of bookings. The new websites are also optimized for third-party distribution if any hotels wish to sell their rooms via a selection of 40 online travel agencies.
"The trend of using brochures and talking is over now," explained the Solomon Island's Visitors Bureau chairman, Father Henry Teho. "The Bureau wants the local tourism operators to have their own web sites so the hotels control their own inbound promotions."
Workshops led by Hotel Link Solutions consultants instruct local hoteliers across the Pacific Islands about the benefits of an improved online presence. Presentations and orientations are followed by photo shoots and digital-content collection sessions at the hotels in order to assist with the development of hotel websites or booking widgets inserted into existing websites. After on-site information collection, the website creation process is handled by the Hotel Link Solutions team.
The series of instructional programs began in Tonga, where many of the hoteliers are already seeing the benefits of their newly launched web sites. Additional workshops and hotel website construction have been completed in the Cook Islands, Fiji and Kiribati. More seminars have been scheduled over the next month in other countries.
"The hotels in Tonga were all thrilled to be a part of the program, and the results have exceeded their expectations," reflected Hotel Link Solutions director Rob Shortland.
In a later phase of the program, a heavy emphasis is to be placed on best practices in social media. Hoteliers will be equipped with Facebook pages that have integrated booking widgets and optimized TripAdvisor listings.
For more information, visit http://www.hotellinksolutions.com or contact André Franchini at andre(at)hotellinksolutions(dot)com, +55 31 8448-4240 (Brazil).
About South Pacific Tourism Organization (SPTO)
The South Pacific Tourism Organization (SPTO) is the mandated inter-governmental organization for the tourism sector in the South Pacific with a membership that represents both the public and private sectors. Current full government member countries include the Cook Islands, Fiji, French Polynesia, Kiribati, Marshall Islands, Nauru, New Caledonia, Niue, Papua New Guinea, People's Republic of China, Samoa, Solomon Islands, Tonga, Tuvalu and Vanuatu. Private sector members include over 200 of the major tourism operators in the region.
About Pacific Island Trade & Invest (PT&I)
Pacific Islands Trade & Invest is the region's foremost tourism promotion agency. As part of the Pacific Islands Forum Secretariat, PT&I is working locally to contribute to the sustainable economic development of the Pacific Island countries by creating opportunities for successful connections for exporters, investors and stakeholder organizations.
About Hotel Link Solutions
Hotel Link Solutions is a first-generation digital-marketing services provider for the accommodation industry. As a WHL Group and ResOnline joint-venture, Hotel Link Solutions has tapped deep resources and wide industry reach to develop a world-class and competitive range of products. Hotel Link Solutions is committed to building a sustainable future for travel and to ensuring that all relationships with clients, staff, business partners and host communities are win-win.
###