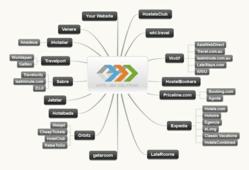 The partnership enables Hotel Link Solutions draw on the knowledge and resources of both companies with the goal of bringing to customers more complete service packages.
HANOI, VIETNAM (PRWEB) May 15, 2012
Hotel Link Solutions, the provider of digital-marketing solutions for small- and medium-sized accommodations, is now officially a joint venture. Founding partner, WHL Group, whose portfolio of companies empowers local businesses in part through cost-effective technology solutions, has formalized its collaboration with ResOnline, the leading Australian technology provider servicing accommodations globally with a complete inventory-management and -distribution platform.
The partnership enables Hotel Link Solutions to draw on the knowledge and resources of both companies with the goal of bringing to customers more complete service packages, especially innovative tools that help smaller accommodations expand their distribution globally through online marketing, and then manage their booking systems directly from their hotel websites.
"This joint venture gives Hotel Link Solutions the assets from each company," says André Franchini, CEO of Hotel Link Solutions. "While the WHL Group provides market access and knowledge through its experience of working with a large network of local and sustainable travel companies, ResOnline brings cutting-edge distribution technology, which is the piece that had been missing."
"The joint venture offers a fantastic opportunity for Hotel Link Solutions clients to gain additional exposure in the online space with minimal effort," remarked Bryan Frawley, CEO of ResOnline.
Hotel Link Solutions packages place directly in the hands of small-accommodation owners total control over where, at what price and at what commission to sell their rooms. The alliance with ResOnline significantly extends their reach by tapping into an established distribution system that continues to create new opportunities.
For the first time, small-business entrepreneurs have access to a comprehensive reasonably priced services with both marketing and distribution digital-management solutions. Early adopters in the rapidly emerging markets of Vietnam, Brazil, Cambodia, the Philippines and island nations throughout the South Pacific are already reporting good results.
"Now I can manage all of the sales channels in one place," said Eva Baquiran, Reservations Manager at the Palms of Boracay in the Philippines. "No more emails about rate parity and lack of rooms for sale! It has cut my workload down dramatically."
About Hotel Link Solutions
Hotel Link Solutions, currently in beta release, provides digital marketing solutions for the accommodation industry. As a WHL Group company, Hotel Link Solutions has tapped deep resources and wide industry reach to develop a world-class and competitive range of products. Hotel Link Solutions is committed to building a sustainable future for travel and to ensuring that all relationships with clients, staff, business partners and host communities are win-win.
About WHL Group
The WHL Group is the largest local-travel company in the world. It is both a global network of companies that help travelers find unique ways to experience a destination through local tourism professionals, and a technology provider to those local tourism operators. WHL Group companies empower local partners who have practice in experiential and mindful travel, and a local's knack for identifying, explaining and sustaining the distinctive qualities of a place.
About ResOnline
ResOnline is the first two-way channel manager in Australia. It provides a total solution that allows accommodation providers to expand their online distribution globally and to manage rooms and rates through an online booking system embedded directly into their webpages.
For more information, visit http://www.hotellinksolutions.com or contact André Franchini at andre(at)hotellinksolutions(dot)com, +55 31 8448-4240 (Brazil) or +84 1226367221 (Vietnam).