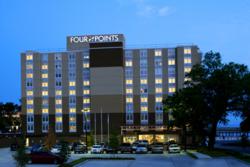 The first thing our owners thought was that they won $50,000. And I said, you know, you're going to win more than that.
Columbus, Ohio (PRWEB) May 01, 2012
Increased market share, occupancy, and guest satisfaction; it sounds like a dream come true for any hotelier. But for Kenny Glavan, the General Manager of the Four Points by Sheraton Biloxi Beach Boulevard, it truly was a dream until they won a $50,000 hotel makeover. While most makeovers might look at the aesthetics of a hotel, that was not Four Point's problem. In fact, they have a pristine, new property with a classically modern design. What Four Points needed was a makeover of their customer service and sales skills, and in June 2011, Signature Worldwide selected them as the first ever national hotel makeover winner.
"The first thing our owners thought was that they won $50,000. And I said, you know, you're going to win more than that," said General Manager Kenny Glavan. During a recent visit, Kenny said he estimates the impact could be more than $500,000.
Why offer free training in the first place? When Signature Worldwide launched the Hotel Makeover contest last April, CEO Steve Wolever made it clear that they wanted to help the hospitality industry provide legendary experiences for their customers at every touchpoint. The hospitality industry has seen cuts in staffing and discontinued training become the norm among hotels during recent years. This has made it difficult to deliver the level of customer service desired by hotel owners and managers.
As business begins to rebound, hotels that are able to elevate the guest experience are enjoying a competitive advantage. The Hotel Makeover was a way to highlight the value training can bring to hotel. The truth is, good training is a necessity for hotels to be successful. As stated in April 2011 by Hotel Makeover judge Fran Brasseux, executive vice president of Hospitality Sales and Marketing Association International (HSMAI) "Service and sales make the difference between a hotel that flourishes and a hotel that flounders."
The staff of the Four Points received several of Signature Worldwide's renowned hotel training programs. The program began with Legendary Leader – a program that assesses leadership strengths and gaps, and creates a more highly functioning leadership team. Training continued throughout every department, including customer service training for the front line – housekeeping, F&B, and front desk, reservations training to increase conversions, sales and prospecting training to increase market share, and social media training to tie it all together. The hotel also benefited from Signature's on demand coaching staff for ongoing reinforcement along with telephone and onsite mystery shopping to measure improvement,
The Four Points by Sheraton Biloxi Beach Boulevard was originally a coastal landmark and the site of the city's first highrise building in the 1960's. After Hurricane Katrina, the hotel was stripped to the concrete and emerged rebuilt following a national economic recession, only to find themselves in the middle of the BP Oil Spill Crisis. The largest non-casino hotel on the Mississippi Gulf Coast, the Four Points is strategically located on the beach near the most popular casinos. With a complete makeover of their customer service and sales skills, Four Points is primed to be a market leader.
Signature Worldwide began in 1986 training hotel employees to improve customer service levels, increase RevPAR, raise occupancy levels and ultimately generate more revenue for hospitality clients. Over the past 25 years, they have expanded their industry expertise to multifamily and public housing, equipment, trucking, party and event rental, senior living and in 2010 introduced social media training. Signature Worldwide is able to make a significant impact for their customers, regardless of whether their customer inquiries are by phone, face-to-face, or online.
About Signature Worldwide:
Signature Worldwide is the leading provider of training and business solutions to service-based organizations, creating tailored employee training and marketing programs that directly impact the bottom line. Established in 1986 and headquartered in Dublin, Ohio, Signature Worldwide operates throughout North America and has licensees in four other continents; Africa, Asia, Europe and South America. For more information, visit the Training that Sticks blog or connect with Signature Worldwide via Twitter or Facebook.