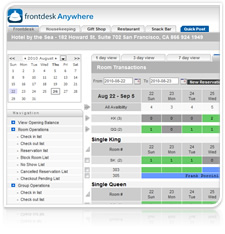 My Frontdesk Anywhere account handles all of the booking retrievals and updates the inventory availability so I no longer oversell my rooms
San Francisco, CA (PRWEB) November 30, 2011
Frontdesk Anywhere, a leading web-based hotel management software company, today announced the introduction of a 'Direct Connect' inventory and booking interface to Expedia that provides their joint customers with simplified inventory management and increased sales visibility to their properties. According to Frontdesk Anywhere co-founder, Thomas Lyle, these new integration features allow properties to send rate and inventory details as well as receive guest bookings from Expedia.com, hotels.com or any of Expedia's other affiliate partners.
Expedia.com, one of the world's largest online travel agencies, offers customers the ability to book at over 64,000 merchant hotels worldwide, and about 56% of those hotels connect directly to Expedia according to Expedia.com's 2009 annual financial report. Once hotels are connected, Frontdesk Anywhere will communicate with Expedia, automatically sending and receiving changes in bookings, rate pricing and inventory availability as they occur in real-time.
"Linking my hotel management software directly to Expedia made perfect sense," stated Eric Jursin, owner of the Tavern Hotel in Cottonwood, AZ. "My Frontdesk Anywhere account handles all of the booking retrievals and updates the inventory availability so I no longer oversell my rooms."
"Frontdesk Anywhere is focused on providing easy-to-use web-based hotel management software solutions," stated Frontdesk Anywhere co-founder, Thomas Lyle. "Integrating Expedia's 'Direct Connect' interface into our service allows hotels to manage their inventory from within the Frontdesk Anywhere PMS while making their rooms available on the Internet. All reservations received will be available in the PMS with no manual intervention required. It's the best of both worlds with regards to both visibility and ease of operations. We are delighted to offer this solution to our growing customer base."
Expedia integration is available today. For more information, customers may contact Frontdesk Anywhere at 1-866-924-1949 or http://www.frontdeskanywhere.com.
ABOUT EXPEDIA.COM
Expedia, Inc., together with its subsidiaries, operates as an online travel company in the United States and internationally. It provides travel products and services to leisure and corporate travelers, offline retail travel agents, and travel service providers through a portfolio of brands, including Expedia.com, hotels.com, Hotwire.com, the TripAdvisor Media Network, Expedia Affiliate Network, Classic Vacations, Expedia Local Expert, Expedia CruiseShipCenters, Egenciatm, eLong, Inc., and Venere Net SpA. The company's travel offerings consist of airline flights, hotel stays, car rentals, destination services, cruises, and package travel provided by various commercial airlines, lodging properties, car rental companies, destination service providers, cruise lines, and other travel product and service companies on a stand-alone and package basis. It also facilitates the booking of hotel rooms, airline seats, car rentals, and destination services from its travel suppliers; and acts as an agent in the transaction, passing reservations booked by its travelers to the relevant travel provider. The company was founded in 1996 and is headquartered in Bellevue, Washington.
To learn more about Expedia products and services visit http://www.expedia.com.
ABOUT FRONDESK ANYWHERE
Frontdesk Anywhere is a leading provider of innovative hotel management software for independent properties. To date, over 50,000 hotel guests have had their stay managed with Frontdesk Anywhere – from the initial online booking process through arrival, onsite operations and checkout. The company is focused on converging processes traditionally performed by separate systems into a single all-in-one productivity application. All modules are seamlessly integrated within the application and accessible from any computer and most mobile devices. The company is a privately held corporation based in San Francisco, California.
For further information please visit FrontdeskAnywhere.com
# # #