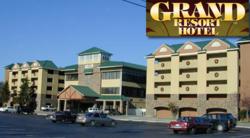 Pigeon Forge, TN (PRWEB) October 28, 2011
Greeneville, TN attorney John T. Milburn Rogers announced the filing of a $10 million lawsuit against TripAdvisor.com for awarding the Grand Resort Hotel & Convention Center in Pigeon Forge, TN as the dirtiest hotel in America in January of 2011. The 425 room resort was featured in Tripadvisor's Top 10 list given out annually. The hotel owner contends that TripAdvisor acted irresponsibly by creating and publishing such a list without validating or investigating whether such a claim is truly warranted.
The purpose of the suit (Case # 2011-0676-I - Sevier County, TN) is to expose, in Rogers' legal opinion, TripAdvisor's flawed and defective system. In its 6th Annual Report of the Dirtiest Hotels in America, TripAdvisor claims "to hold true to its promise to share the whole truth about hotels to help travelers plan their trips". But the suit alleges that TripAdvisor uses negativity as its main PR vehicle to provide publicity for itself at the expense of businesses all around the globe. TripAdvisor has made a direct claim about the Grand Resort Hotel and Convention Center based upon reviews that they cannot authenticate. Similar claims to those found in the suit are being made throughout the United States and Europe. According to Mark Sweeney of guardian.co.uk and James Hall of telegraph.co.uk, TripAdvisor is currently under investigation by the Advertising Standards Authority, the UK's independent regulator after thousands of hotels claim that Tripadvisor does not check its reviews for authenticity.
"Not only has my client's hotel been negatively affected by such an outlandish claim, but thousands of other hotels in the United States and other countries are being negatively affected by a system that we believe is far from perfect," said Rogers. As stated, the suit alleges that the hotel is not disputing the true, authentic reviews of guests that have stayed with us, but we are disputing the title unjustly bestowed on our hotel by TripAdvisor and their methods, or lack thereof, and questions how they made such a determination. It is evident that TripAdvisor takes pride in their annual marketing ploy as they claim in their press release to "name and shame the nation's most hair-raising hotels."
Roger's stated his client's business has been undermined by multiple reviews on TripAdvisor and by being labeled the "Dirtiest Hotel in America" by the consumer review website.
As one of the largest hotels in East Tennessee since opening in 1982, the Grand Resort Hotel & Convention Center has hosted hundreds of thousands of people who have stayed as overnight guests or attended one of the thousands of events held in its 75,000 square foot convention center. The 8-acre hotel and convention center complex is in the center of Pigeon Forge, Tennessee, one of the most popular tourist destinations in the country, nestled in the beautiful foothills of the Great Smoky Mountains, between the cities of Gatlinburg and Sevierville, that sees over 11 million visitors annually.
Rogers stated that due to the large amount of negative reviews as well as fake 5-star positive ratings provided by soliciting companies, the attention is now focused on the actions and negative effects of companies such as TripAdvisor.
The lawsuit alleges that growing negative practices and the role of TripAdvisor and other online websites are creating false images of businesses across the globe and giving false pretenses about good businesses. These websites and companies now make it possible to post positive reviews for one's own business as well as negative for the competition.
###