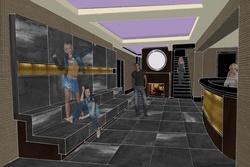 Demand is on the rise nationally for more affordable rooms that still offer a great lifestyle experience, and Broadway Hotel & Hostel is setting the tone for this trend.
NEW YORK (PRWEB) May 12, 2008
Guests are already enjoying new amenities such as a 2,500 square foot recreational common area that includes a surround-sound theater room with couches and plasma screen TVs, popular on Friday's movie night, which feature recently released movies in hi-definition. There is also a library with modern, comfortable seating, a meeting room/living room with another flat screen TV and fireplace, an area with eight computer kiosks, a kitchen (complete with microwaves and refrigerators) and a dining room conducive to communal eating. The lobby will have an expanded front desk area with espresso and cappuccino service.
To create the hostel's new look and feel, hotel owner Hank Freid enlisted the help of Gonzalo Bustamante, principal and owner of Seed Design Inc. As a professional in hospitality design, with notable clients such as Tishman Hotel Corporation, MGM hotel and casinos, and Planet Hollywood International, Bustamante has fashioned a peaceful and relaxed environment through careful selection of materials and lighting. "We wanted to create an overall Zen feeling, soft to the touch and experience, but also realized hostel spaces must be tough enough to handle high traffic on a daily basis," says Bustamante, noting that he had to find and use indestructible carpet, stone and wall coverings. The guest lounge and facilities have exposed brick walls, accent lighting from glass chandeliers, cherry-wood finishing throughout and Asian inspired artwork. Wanting to infuse new life to the check-in experience, he opened up the space and introduced a desk that is more of an object rather than a piece of furniture.
"Hostels are very popular everywhere outside the United States but I think that notion may finally be changing, and the age of the average traveler is getting younger as well," explains Bustamante. "Demand is on the rise nationally for more affordable rooms that still offer a great lifestyle experience, and Broadway Hotel & Hostel is setting the tone for this trend."
With over 400 beds throughout the 125 rooms (25 of these are private for groups and families), Broadway Hotel & Hostel has completely renovated all of the dormitory rooms adding such comforts as European bed linens, ceiling fans, in-room vanities, tiled floors, and a Mediterranean color palette. Dormitory rooms have only four-to-six beds, versus the hostel norm of 8-10 beds. The private rooms were also upgraded, and now boast down comforters, down pillows, Ecco-natural bath products, shower massage heads and Asian-influenced furniture. Additionally, the hostel has added guest laundry facilities and guest storage lockers.
Even with all these great amenities newly added, prices at The Broadway Hotel and Hostel are not increasing. The average price for a bed will remain at $18-$35 per night ($99-$189 for a private room).
"The average hotel price per night in Manhattan has become untenable to so many, which is why we are seeing more hostels than ever before," says Impulsive CEO's Freid, noting there are over 50 hostels in Manhattan, up from about 12 just a few years ago. "Yet even with the explosion of the category, hostels remain uninspired, typically offering an unexceptional experience to go along with the sparse décor. We think we've succeeded in raising the bar."
More about Broadway Hotel & Hostel
Broadway Hotel & Hostel is surrounded by over 50 different restaurants within a three-block radius, including Sookk, a Thai restaurant, which recently opened across the street at Marrakech Hotel NYC, a boutique Moroccan-themed hotel also owned by Impulsive Group. Steps away are Central Park, Columbia University, and the Cathedral of St. John the Divine, the world's largest gothic chapel. Two blocks away is the subway for easy commuting. For more information, please call 212-865-7710 or http://www.broadwayhotelnyc.com.
More about the Impulsive Group:
The Impulsive Group specializes in luxurious and designer hospitality real estate. The hotel group is currently developing a four-star boutique hotel at 47th Street and Times Square, to be called Sanctuary, and recently completed a renovation of its Marrakech Hotel NYC on the Upper West Side. Other New York City projects include the expansion of the Ameritania hotel at 54th and Broadway. Impulsive Group also owns several charter yachts – a 120-foot Norship in the Mediterranean and an 82-foot Sunseeker Predator in the Caribbean and the Bahamas. The company is currently looking to expand their luxury holdings in New York and Florida, including the purchase of additional hotel properties. They are also exploring acquisition opportunities in San Francisco, Boston, Tahiti and the Dominican Republic.
For additional information about Impulsive Group, call 212-247-2211 or http://www.impulsivegroup.com.
MULTIMEDIA GALLERY http://www.businesswire.com/cgi-bin/mmg.cgi?eid=5680437