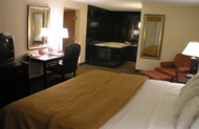 Columbus, OH (Vocus) December 10, 2009 -
Your hotel reservations are made online. Your parent company has a large website that is prominently displayed online. Your travelers are doing their vacation research online. Brides-to-be in your area are looking online for places to host receptions and places for guests to stay for their big day. GPS mobile devices like Tom-Tom, Garmin, Blackberry, and Magellan show local businesses search results online. Travelocity, PriceLine, Hotels.com, and other referring companies are based – you guessed it – online. So how important is it for your specific local hotel or hotel franchise to be well represented online? It is imperative.
So how do you go about getting that presence online? There are quite a few options available these days, so it is important to take a look at the most essential elements that can promote you.
Element #1: Local Directories
GOOGLE, YaHoo!, BiNG, Yellow Book, and others all have local directories that allow searchers to find your location, hours, amenities, guest reviews, etc. and usually include a map and directions. How well you show up on these local search directories is related to how many hotels are competing for a spot, how close your hotel is to the area included in the search, how well your information is placed on the directory (optimized) and how many other online directories there are where your information can be found consistently.
It is advisable to use a professional service like Localize It, a hotel internet marketing company, to present this information in a format that is optimized for these different directories. That allows you the highest degree of visibility. Your establishment can show up prominently for the different amenities you offer, maximizing the number of directories and maps where your hotel will be found. Travelers will look for a room reservation at a hotel by geographic location, so this is the most important of the elements. If they can't find you in the local search results, they can't make a room reservation with you.
Element #2: Websites:
If you are part of a large hotel chain like Best Western, Ramada, Hilton, Marriot, or Choice Hotels (Rodeway Inn, Clarion, Cambria Suites, Quality Inn, Econo Lodge), you undoubtedly have a page on the parent company hotel website such as an e-brochure. These parent franchise e-brochures are great for a corporate look, however, they lack the specific "local flavor" your hotel's specific location offers. While it is important to be on the parent franchise website and have appropriate branding, it has its limits for how it can assist your specific hotel in the local area. Having a specific website that will show off your location and separate you from the rest of the local competing hotels is imperative.
It is always best if you can independently market your hotel, tracking the number of visitors and researching ways to get a higher percentage of room reservations or amenities online. Again, using a professional service such as Localize It to help you design a bright, professional, branded, and easy to navigate hotel website is very important. It can be as small and simple as a 1 page site that links travelers to your reservations page or as elaborate as a multiple page hotel website that may discuss other attractions at your hotel's location like; nearby attractions, restaurant, wedding planning, conference room space, banquet hall, and more.
Element #3: Tracking Online Traffic
The simplest way to track online traffic is to have a specific offer or coupon online that offers a price or package that is unique. Then every booking that includes that information must necessarily be from the internet website that listed that offer. Google Local has a coupon page that is very helpful. You can link from your Google Local listing to a specific offer on the coupon page. Companies that specialize in hotel internet marketing, like Localize It, can help you setup these features.
Element #4: Hotel Search Engine Marketing
Your hotel-internet-marketing.htm hotel web design needs as much visibility online as possible. One of the more important places that people look online for your hotel is called the "natural search results". The majority of a website's traffic will come as a result of showing up here when customers do a search for hotels in your specific area.
Some of the rules for high visibility in the search engines include enriched content, proper meta tags, site maps, and incoming website links from other related websites. The search engines will rank your website according to how relevant your site appears when compared to the search being performed by the end user. If you are a hotel in Kansas City, your website should not show up in search results for "hotels Chicago". But it should definitely show up in a search for "hotels Kansas City", and preferably right on the first page. A professional search engine marketing company, like Localize It, can help your hotel take advantage of getting the placement you desire.
This is a long term marketing strategy for your business. Don't start at Thanksgiving and expect results by Christmas. This hotel marketing strategy is not like coupon mailers. Conversely, it is a long term return on investment as well. Get it right and you can reap the rewards for years to come. It's much easier to stay on the top of search results than it is to work your way up there the first time.
Element #5: Additional Exposure
Thousands of opportunities exist to get exposure for your hotel by using the internet. Creating an interesting social media blog can be helpful. Perhaps there is something quite interesting that goes on in your area that you can comment on (i.e.; local events, wineries, farms, festivals, businesses that offer tours, architecture, competitions, waterfalls, restaurants. etc.). You might even create a blog to talk about the amusing situations that occur in your hotel (without using names, of course). The more amusing or controversial, the more likely readers will follow it and discuss it. The more readers, the more links it will build up, eventually beginning to show your hotel's website on more search results from multiple locations aside from your website specific. For example; Facebook has become a huge internet fad. Millions of people post reviews or discuss business and personal relations on this social network all the time. Imagine if people were discussing the last time they stayed at your hotel and then people read the posts and were now enthusiastic about reserving their daughter's wedding with you.
Articles sometimes known as a SEO Press Release make for another great opportunity for promotion of your location, services, and hotel amenities. Online article publishing can create long term interest for you. If you have some company news that is of interest, you can publish a press release online which will be viewed on multiple news casts. Press releases often get a certain additional priority on search engines due to their time sensitive nature and content.
In Conclusion: By utilizing all of these hotel internet marketing tools together, you can create additional visibility for your hotel. Online reservations and hotel amenity booking should increase and with a little tracking, you should be able to build on the successes you discover along the way.
Have additional questions? Please contact Localize It, a Columbus Oh SEO company, that provides high visibility for local search results.. Localize It was formed around senior internet marketing strategists that are geared to providing local results for your hospitality organization online.
###