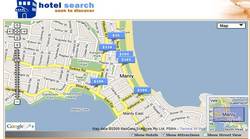 Sydney, Australia (PRWEB) February 23, 2009
Travel website Cheaperthanhotels today unveiled ground-breaking maps that allow travellers to compare hotel prices and locations at the same time.
By combining dynamic pricing technology and the Google Maps API, Cheaperthanhotels enables travellers to search for accommodation using a variety of criteria then display appropriate hotels on a Google area map alongside average prices for each property (http://www.cheaperthanhotels.com.au/Australia/Sydney/Manly/)¹.
Travellers also have the option of taking a closer look at each hotel and surrounding attractions by switching to Google Street View².
Cheaperthanhotels Managing Director Alistair White said that displaying hotel prices in a graphical format was more user-friendly and efficient than scrolling through endless lists of hotel names and rates.
"With search technology beginning to converge with navigation technology, people increasingly expect information to be presented to them graphically," White said. "However, many established online accommodation sites are hamstrung by aging technology which limits their ability to present search results in anything but large data tables."
Cheaperthanhotels' new dynamic pricing maps meld together many of the mapping world's best features and functionality into a single experience.
Along with price and location comparison, the maps also incorporate:

A route planner (http://www.cheaperthanhotels.com.au/Australia/Sydney/)- specify a journey between two or more points then view hotel options and prices mapped out along the route
Distance calculators - see how long it takes to travel - by foot or car - between a hotel and key attractions and/or other properties
Advanced filters - filter search results through a range of criteria (including hotel facilities) to pinpoint the most relevant properties
Google search - explore dining and entertainment options around each hotel using Google Search
Established in 2004, Cheaperthanhotels uses cutting-edge technology to enable travellers to quickly search one of the world's largest hotel databases, boasting more than 48,000 properties in 130 countries worldwide³.
Rather than restrict visitors to searching for rates based solely on destination, travel dates and/or price, Cheaperthanhotels allows travellers to drill deeper by specifying additional search criteria, including accommodation types, star ratings and hotel features (from swimming pools to disabled facilities).
The result is a faster, easier and more accurate way to track down properties that best suit individual travellers' needs and budgets.
Ends
¹ Prices are averaged over a 12-15 day period.
² Street View is provided by Google as an API and is not yet available in all countries. To view an example of the Street View facility go to http://www.cheaperthanhotels.co.uk/France/Paris/Royal-Elysees-Hotel-Paris/. Click on Hotel Map then click on "Show Street View".
³ Cheaperthanhotels Australia operates in association with some of the world's largest and most geographically diverse travel companies. See http://www.cheaperthanhotels.com/about-us.aspx
Notes for editors:
Cheaper than hotels
Cheaperthanhotels helps travellers search one of the world's largest hotel databases to quickly find the right hotel at the right price. As well as location, dates and/or price, visitors can specify a wide variety of additional criteria, including accommodation type, star ratings and hotel features (swimming pools, disabled facilities, family friendly, etc) in order to track down the property best suited to their needs. Hotels can also be booked at the last minute or up to 365 days ahead.
Cheaperthanhotels operates a number of regional sites to meet the specific needs of different markets:
Global http://www.cheaperthanhotels.com
UK/Europe http://www.cheaperthanhotels.co.uk
Australia http://www.cheaperthanhotels.com.au
###