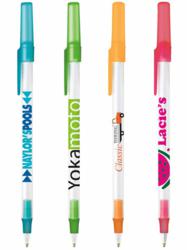 New York, NY (PRWEB) August 07, 2012
BIC Promo Pens (http://www.bicpromopens.com), the premier source for logo and advertising pens in the United States and Canada, is pleased to introduce a line of BIC writing instruments which are an affordable way for the hotel industry to put themselves in their clients' hands.
Right now in London, hotels have the perfect opportunity to reach the guests who have come to stay during the 2012 Summer Olympic Games. Pens are an item that everyone uses on a daily basis, but that people don't usually think to pack when they travel. And whether guests are seeking opulent luxury, world-class business services or budget-conscious pricing, they love free gifts.
A high-quality advertising pen is a smart, cost-effective way for hotels to build brand loyalty and recognition with their guests. Promotional pens can be placed in every room, and handed out to guests in common areas such as lobbies, restaurants and business centers. These pens are easily picked up to make notes during meetings or while planning family visits to local tourist attractions, and when the guest returns home, the pen most likely goes with them. Guests will remember the hotel that they stayed at each time they use the pen, making it an effective, tactile method of keeping the hotel's name fresh in their mind – especially those guests who are planning a return visit.
BIC Promo Pens carries a line of affordable BIC promotional pens, including the BIC Round Stic, BIC Grip Roller and BIC Clic Stic. Starting as low as $0.26 per unit, this line of BIC pens can fit into any hotel's advertising budget, whether independently-owned or as part of a worldwide chain. Available in a number of eye-catching designs, all logo pens is completely customizable. Designs allow selection of up to ten different colors for the barrel and trim, while imprinting of logos and hotel information is available in up to 17 different ink colors. Many of these BIC promotional pens can be customized and delivered to any location in the United States within 48 hours, and all BIC pen orders include free UPS ground shipping.
For more information on how BIC Promo Pens can provide advertising pens to hotels with fast service and free shipping, call 1-888-844-7367 or order online at http://www.bicpromopens.com.
About BIC Promo Pens:
In business for more than 35 years, BIC Promo Pens has helped more than 300,000 clients increase brand awareness and customer loyalty through their high-quality products. BIC Promo Pens offers the lowest prices on all its BIC promotional pens, and includes free UPS ground shipping on all its BIC pen orders.