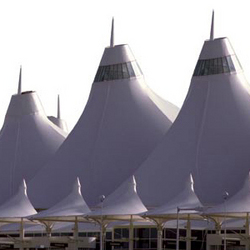 Incident Command System Overview for Hotel Executives
Denver, CO (Vocus) December 15, 2008
To make tourism and business travel as safe as possible, hotels at Denver Airport Center will be the first in the nation to provide hotel safety using crisis response measures developed by the U.S. Department of Homeland Security (DHS).
Denver Airport Center, the new Denver power center located next to Denver International Airport, will train airport hotel staff in all aspects of the National Incident Management System (NIMS) and the Incident Command System (ICS).
Both systems are part of the National Response Framework established earlier this year by DHS, and are proven effective in dealing with a broad range of emergencies associated with high-occupancy buildings and large events.
Special emphasis will be given to communications interoperability with professional responders in the community such as law enforcement, fire, emergency medical, and mental health.
Denver Airport Center released today a two-hour interactive presentation, "Incident Command System Overview for Hotel Executives," on its website at DenverAirportCenter.com/ics with information on training available for the leisure/hospitality industry.
Participating hotels at Denver Airport Center include the Days Inn Denver, the Ramada Denver, the Holiday Inn Express Denver, as well as two new hotels opening in 2009 -- the Holiday Inn Denver and The Inn at DIA]. Also participating is Americar Denver, the car rental agency serving the Denver Airport Center hotels.
In addition, a conference center is under construction at Denver Airport Center which will regularly serve as a national training center for hotel security and guest safety.
In today's world, hotels and resorts around the world face alarming risks such as the gunmen who attacked two luxury hotels in Mumbai, India, on November 26, and many other threats including:

Fire, both structural and wildland
Natural disasters, such as tornadoes, floods, ice storms, or earthquakes
Human and animal disease outbreaks
Search and rescue missions
Hazardous materials incidents
Criminal acts and crime scene investigations
Terrorist incidents, including the use of weapons of mass destruction
National Special Security Events, such as Presidential visits or the Super Bowl
Other planned events, such as parades or demonstrations
Denver Airport Center offers NIMS and ICS training at three levels: for general personnel, critical personnel, and leadership personnel. Courses are less than a half-day each, and include hands-on exercises featuring intensive group interaction. College credit is available to any participant upon completion of each course.
For more information, contact John Simmons, Denver Airport Center, at JohnSimmons at DenverAirportCenter dot com.
###