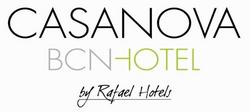 We want to make it easier for non-European travelers to experience the wonders of Barcelona, even though the world economy is struggling
Barcelona, Spain (Vocus) February 27, 2009
Sensing that American travelers could use a bit of good news, the Hotel Casanova in Barcelona is temporarily locking in the dollar-to-Euro exchange at one-to-one for all charges at the hotel. Guests paying with U.S dollars for everything from restaurant bills and bar tabs to room service and spa treatments will see a significant savings on their final bill. The promotional exchange rate is valid from February 15 to December 20, 2009.
"Locking in a premium foreign currency exchange rate for hotel purchases is unprecedented in the industry and is designed as a sort of vacation stimulus package," explained Juan Escudero, Managing Director. "We want to make it easier for non-European travelers to experience the wonders of Barcelona, even though the world economy is struggling," Escudero said.
"This is actually a great time to visit Spain," said Samir Saab of Prohotel International. "The city is still as vibrant and lively as ever, but many of the most popular attractions are not as crowded as they can be at peak travel times, visitors can take their time and really enjoy the city to the fullest."
Guests can take advantage of the favorable exchange rate by paying with dollars at the hotel's artsy Mexiterranée restaurant, which fuses Mexican, Catalan and Mediterranean flavors to create a menu of signature dishes that even the locals are buzzing about. For a sample of the Barcelona nightlife, guests head to the Lounge Bar for the mod ambiance and exotic cocktails. And for a break from the Barcelona bustle, the hotel's Stone Spa offers indoor and outdoor massages, body scrubs, aromatherapy and other relaxing and therapeutic treatments that incorporate precious stones, herbs, flowers and essential oils.
"During the promotion, a treatment listed in the spa menu at 100 Euros costs our guests 100 American dollars," Escudero explained. "It's as simple as that." With this kind of dollar-to-Euro exchange rate, it's no wonder it's so easy to fall in love with Casanova. For reservations, please call 1 866 849 6396 or visit http://www.casanovabcnhotel.com/dollar .
Casanova by Rafael Hotels
The 124-room Hotel Casanova was converted from an 18th Century residence and is known for its ultra-hip style and modern amenities. Located just a short walk from Plaça de Catalunya, Las Ramblas promenade, La Boquería Market, Gothic Quarter and a dizzying range of cafes, shops and nightspots. As a member of Small Luxury Hotels of the World, the refashioned Casanova by Rafael Hotels debuted in Barcelona in November 2007. A hip Lobby Bar I part of Barcelona's fashionable social scene; show casing DJ's spinning the latest beats and a succulent ceviche menu against a cinematic backdrop of classic black and white films and the latest music videos. The Stone Spa offers relaxing, unique treatments in a tranquil courtyard with an outdoor couple's cabana and four indoor treatment rooms. Casanova blends modern design with theatrical flair, blending into the city itself. Managed by ProHotel International of Houston, which also manages the celebrated La Pleta by Rafael Hotels in the Spanish Pyrenees and Hotel Esencia in the Riviera Maya, Mexico.
Contact:
Michelle Taft
Prohotel International
1.713.528.7862
# # #