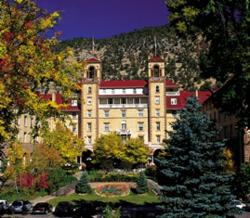 The Titanic Centennial Ball is an experiential evening that gives guests an opportunity to imagine what it was like to be a passenger aboard the Titanic in an intimate, historic setting
Glenwood Springs, Colo. (PRWEB) May 30, 2012
A century may have passed since the Titanic sank to its watery grave off the coast of Newfoundland, but curiosity about what happened in the early morning hours of April 15, 1912, remains at full throttle. On June 30, the historic Hotel Colorado in Glenwood Springs will host the Titanic Centennial Ball and Afternoon Tea, a rare opportunity for guests to experience the events of the final night aboard the Titanic: the opulence of the Victorian age, the cuisine enjoyed by first class passengers, and a look back on the events of that night as told by the great granddaughter of Margaret (Molly) Brown, Helen Benziger.
"The Titanic Centennial Ball is an experiential evening that gives guests an opportunity to imagine what it was like to be a passenger aboard the Titanic in an intimate, historic setting," said Larry Welch, Hotel Colorado General Manager. The Hotel Colorado will recreate and serve the Titanic's first class menu, and throughout the evening musicians will be playing the chamber music popular during the ship's heyday. Guests will view the 1958 movie, "A Night to Remember," considered one of the most historically accurate accounts of the Titanic. They'll also have an opportunity to sit at the Captain's Table with guest of honor Helen Benziger, whose great grandmother was Margaret Brown. The famous Titanic survivor was once a guest at the Hotel Colorado, no doubt enjoying the world-class amenities of the Hotel Colorado and the town. The June 30 event is also a fundraiser for a local charity, the Advocate Safehouse Project.
The Titanic Centennial Ball begins with cash bar cocktails and complimentary hors d'oeuvres from 6 – 7 Bells, a time-telling convention that the Titanic's passengers would have been familiar with. Cocktail hour fare features oysters on the half shell with a variety of sauces and canapés a l'Amiral served with Chablis.
Dinner begins at 7 Bells in the opulent Devereux Room with the replication of the White Star Line's first class menu: consommé Olga served with Madeira dry sherry, salmon with mousseline sauce on a bed of boiled rice paired with Moselle wine, cold asparagus salad with champagne saffron vinaigrette, roast duckling and apple sauce served with burgundy, punch romaine, filet mignon Lili, chateau potatoes and creamed carrots paired with Bordeaux, chocolate éclairs, assorted cheeses, coffee or tea. The evening costs $100 per person (plus tax and gratuity) and includes appetizers, dinner, wines. Guests may also choose to dine with Molly Brown's great granddaughter, Helen Benziger, at the Captain's Table for $150 per person. Tables of six are available, however seating is limited and reservations are required. For guests wishing to prolong the experience, the Hotel Colorado is offering the Titanic Stateroom package, which includes the Titanic Centennial Ball dinner with accompanying wines for two people, a stay in an elegant suite with the hotel's turn-down amenities and a Titanic souvenir for $369. Reservations are available by calling 970-945-6511.
Aside from the authentic menu, the other highlight of the evening is the opportunity to get a very personal perspective of what it was like to be there the night the Titanic sank. Benziger has been educating people about her great grandmother, Margaret Brown, for 14 years. "What I love about events like this one is imparting knowledge and the connection I get with diners," said Benziger. "What guests will take away from the evening is a personal understanding of what it was like that last night on Titanic and an understanding that Margaret Brown was so much more than what people give her credit for." Storyteller extraordinaire, Benziger will guide guests through the final evening aboard the Titanic, providing glimpses of what Margaret Brown saw, heard and felt that night one hundred years ago.
Benziger will also host Afternoon High Tea in the Hotel Colorado's Molly Brown Suite, on June 30, at 2 Bells. A fun and instructive occasion, Benziger will give guests a tour of the suite, which she helped decorate with memorabilia, a brief history of high tea and a lesson in high tea etiquette. Along with sipping tea, guests will sample an array of traditional accompaniments, including assorted finger sandwiches such as roast beef and horseradish cream, cucumber and cheddar, smoked salmon and chive crème fraiche; scones with jam and clotted cream; and fresh strawberries. During tea Benziger will offer details and answer questions about her great grandmother and her account of the Titanic. Afternoon High Tea is $17 per person; guests may call 970-945-6511 for reservations.
The RMS Titanic was lost at sea in one of history's most tragic maritime accidents; but despite the passing of a century, there continues to be intense curiosity about what actually happened that night. Find out what it was really like aboard the Titanic with fine food, music, a movie, and a fascinating historical account as told by the "Unsinkable" Molly Brown's descendant. Guests may call 970-945-6511 for reservations and information about the Titanic Centennial Ball and Afternoon High Tea.
About the Hotel Colorado
The historic Hotel Colorado is a National Historic Landmark, located along I-70 at Glenwood Springs, approximately 165 miles west of Denver and 90 miles east of Grand Junction. Built in 1893 by entrepreneur and visionary Walter Devereux, the hotel became famous for its opulence and proximity to the therapeutic natural hot mineral springs. Notable guests include President Theodore "Teddy" Roosevelt, the "Unsinkable" Molly Brown, and gunslinger John "Doc" Holliday. The Hotel Colorado's historic ambiance, fine dining, modern amenities, and location close to the town's top attractions continue to draw visitors from around the world. For information and reservations, please visit http://hotelcolorado.com/.
Media Contact:
Larry Welch, General Manager
The Hotel Colorado
970-945-6511
LWelch (at) provhp (dot) com