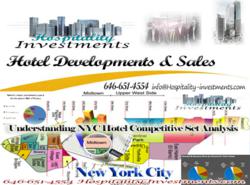 Your NO. 1 Stop for all Hotel Development Services and OFF-MARKET Hotels For Sale in NYC

Hospitality Investments

To Develop or buy a Hotel in New York City, Call US to discuss at 646-651-4554 http://Hospitality-investments.com
New York, NY (PRWEB) February 25, 2013
Hospitality Investments & Developments NYC's premier hotel development company, is a leading resource for all the most recent transactions in the city's hotel sector. The second day of the New Year saw the sale of two prestigious New York City hotels. The 203-room Alex Hotel at 205 East 45th Street was sold to Wyndham Worldwide Corporation for $115,000,000 ($566,502 per room). The sellers were the Rockpoint Group, Atlas Capital Group, and the Procaccianti Group. The same group of sellers sold the 289-room Flatotel for $180,000,000 ($622,837 per room) to the Chetrit Group, David Bistricer. This well-known property is expected to be transformed into upscale residential condominiums and be ready for market by June 2014.
Also, Hospitality Investments notes that InterContinental Hotels Group PLC has just announced its intent to proceed with the already-planned sale of its 87-year old flagship hotel New York Barclay (as well as its InterContinental Park Lane property in London). The group has resurrected its plan for sale based on a recovering market. Hospitality Investments explains how an increase in corporate travel and renewed interest in flagship real estate is being fuelled by sovereign wealth funds and overseas investors in search of good returns and trophy properties. According to IHG, optimum market conditions are now a reality in hotel development. The New York Barclay should sell for about $350,000,000
"Although NYC hotels are popular with avid investors, these lodging properties also attract crowds of regular tourists and corporate clients," says Hospitality Investments and Developments.
During 2013, travelers to New York City will have a choice of even more affordable hospitality options. Before the end of this year, 18 mid-range hotels (3,100 rooms) are planned to open in New York City. In March, the city will see its first-ever Best Western Premier. On January 31, a Holiday Inn Express hotel opened just steps away from the Best Western, Hyatt Place, the chain's first Manhattan property, will open on February 21 in the same location – right next to the city's latest Best Western.
The Jade Hotel in Greenwich Village / Meatpacking district opened this month.
Manhattan hotel occupancy is expected to reach a rate of at least 85% in 2013.
"During this Manhattan hotel boom, developers are now finding it easier to get construction financing," explains Hospitality Investments.
Hilton's next mid-price hotel, the Hampton Inn Manhattan/United Nations at 231 E. 43rd St., will start accepting guests on February 27. Marriott International plans to open six lodging properties this year (four Courtyards by Marriott, a SpringHill Suites, and a Residence Inn). Opening in November, the 68-storey combination Courtyard by Marriott and Residence Inn Manhattan/Central Park being developed at 1717 Broadway - 54th Street will become New York City's tallest hotel.
According to Hospitality Investments and Developments," the New York City hospitality industry is growing at record speed."
Hospitality Investments and Developments notes how hotel transaction activity so far in 2013 compares to 2012 and 2011 statistics. The New York City hospitality sector declined greatly during 2012. A PropertyShark.com report indicated a 30% fall (just 31 deals) in hotel transactions last year. Sales volume and median price declined considerably during 2012 compared to 2011. Last year's sales volume came in at $1.6 billion closed sales - a 58% decline compared to $3.8 billion in sales in 2011.
The significant fall in median sale price and median sale price per room shows the decline in the 2012 hotel sector. Last year, the median sale price was down 78% from 2011. The median sale price per room fell 32% - about $100,000 - from $287,000 in 2011 to $194,000 in 2012.
In Brooklyn, however, the median sale prices per room doubled to a record value of $190,000 in 2012 compared to 2011. Brooklyn prices almost equaled Manhattan prices. Yet Manhattan still led with activity and guest rooms selling for an average of $200,000 although hotel rooms in the borough went for around $384,000 in 2011. Just like Manhattan, Queens saw a considerable decline in the median sale price ($38,000) in 2012 compared to 2011 prices ($75,000). Brooklyn stood out among other New York City boroughs with its rise in hotel activity.
For the most up-to-date information about the latest hotel development opportunities in the Big Apple's hotel sector, interested buyers and sellers can contact Levi Yitzchak. Find detailed information about recent NYC hotel acquisitions and developments at http://hospitality-investments.com. Get the inside scoop about the city's boutique and luxury developments and other hospitality brands.
About Hospitality Investments and Developments:
See previous press release
"Hotel Brands Looking to Expand in New York City? Hospitality Investments & Developments - Your TOP Team on the Ground in NYC"
http://www.prweb.com/releases/Hotel_Developers/NYC/prweb9866272.htm
Hospitality Investments & Developments handles each and every detail for investors who purchase or develop hotels in New York City and beyond. The company's expert services include everything from hotel site selection, negotiations, approvals, and due diligence, to the architect, interior design, furniture/fixtures/equipment, permits, to food and beverages and restaurant operation, as well as legal matters. Hospitality Investments guides their clients every step of the way - from pre-purchase to grand opening.
Their experienced team has a well-earned reputation for the highest degree of professionalism, hands-on involvement, and accountability. Their senior executives deliver New York City hotels with the use of an innovative turn-key project approach ensuring greater control over value and cost, schedule advantages, and streamlined project management.
The Hospitality Investments & Hotel Developments' team is recognized for having the capability to create synergies and win-win strategies in mixed-use projects as well as managing and delivering a highly successful hotel.
To hire us for your next Hotel Development in NYC or discuss new opportunities in Manhattan for Boutique and Luxury hotel development, contact:
Levi Yitzchak
Executive Vice President, Acquisitions and Developments
info(at)hospitality-investments(dot)com
Tel. 646-651-4554
http://hospitality-investments.com
"Hotel Developments NYC" "Hotel Developers" "Hotel Branding" Hotel Constructions NYC" "Hotel Builders" "Real Estate Developers" "Hotel Development Site" "Hotel Development Sites Available in NYC" "Hotel Development Ste For Sale" "Hotels For Sale in NYC" "Developers in NYC" "Hotel Builders NYC" "Hotel RevPar NYC" "ADR NYC" "RevPar NYC"