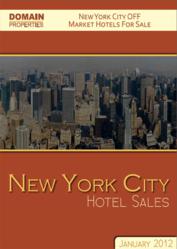 Domain Properties represents Hotel Portfolios for sellers and buyers of OFF-MARKET properties including operating hotels as well as NYC Hotel development sites and hotel conversion sites, Equity partnerships and Joint Ventures.
New York, NY (PRWEB) March 23, 2012
Within the midst of a dynamic atmosphere surrounding the New York City Hotel industry, Domain Properties (representing buyers and sellers) has closed on the sale of the Avalon – a four-star, 12-story, 100-room, 71,250-square-feet luxury property at 16 East 32nd Street. Haim Yagen, president of Domain Properties, represented the transaction for both parties. Before the purchase, the building was managed by Vincci Hotel Management.
The recent deal involving the Avalon (unique building situated in a prime Midtown neighborhood) is the latest transaction in a vibrant NYC hotel sector. Domain Properties has just released its detailed "Beginning of the Year Report - Buying and Selling NYC Hotels in 2012" – an overview of the current hospitality scene from January to March. Other notable deals include hotel sales such as Hampton Inn 35th St. Empire State Building, Novotel Hotel Times Square, Cassa Hotel & Residence, Knickerbocker Hotel, Ritz-Carlton Hotel, Hyatt Place New York Midtown South, and Wyndham Garden Hotel - Times Square, as well as Holiday Inn New York City Midtown - 31st Street (Chesapeake's Lodging Trust's first NYC hotel).
In addition, Dubai Investment Group, part of the larger Dubai Group, is selling the Jumeirah Essex House – an art deco building near Central Park.
The hotel company explains that "Jumeirah remains confident in the value it brings as an internationally respected luxury hotel brand and expects that it will continue to manage the hotel after the sale of the property."
As well, InterContinental Hotels Group boss, Richard Solomons, plans to sell the landmark New York Barclay hotel. Simon French at Panmure Gordon notes, "Given the strength of the US hotel market we look for management to reaffirm its commitment to dispose of the InterContinental NY Barclay in 2012."
Indeed, this hotel sale could yield shareholders a $250 million cash return. Generally, investors around the globe have an eye on the robust demand for NYC Hotels as well as the Big Apple's record-breaking tourism statistics. Recently, Mayor Michael R. Bloomberg and NYC & Company (New York City's official marketing and tourism organization) announced that the Big Apple had welcomed more visitors in 2011 than suggested by earlier projections.
In fact, last year's NYC tourism figures indicate a record-breaking 50.5 million visitors. Even between December 2011 and January-March 2012, travelers are coming to New York City – the number one metropolitan U.S. tourist destination. Hotel occupancy rates increased to 85% by the end of last year. Even during the winter months, corporate groups and leisure guests choose New York City.
For complete OFF-MARKET listings of NYC hotels for sale or to have Domain Properties represent your hotel portfolio, visit http://www.Domain-Properties.com Contact Haim Yagen and get Domain Properties to work for you in one of the most exciting periods in the history of buying and selling hotels in New York City. During 2012, city hotels are expected to match or even exceed the popularity that the industry enjoyed during the previous year. That accomplishment would be an outstanding one for the Big Apple's lodging sector. NYC hotel sales demonstrated a five-year high in 2011 – up 148% from 2010 and 524% over 2009.
About Domain Properties:
Domain Properties represents hotel portfolios for sellers and buyers of OFF-MARKET properties including operating hotels as well as NYC hotel development sites and hotel conversion sites - luxury hotels, trophy hotels, upscale hotels, select hotels, and boutique hotels in New York City and beyond. Domain Properties continues to represent private investment entities, pension funds, Hotel REIT's, Hotel Management Companies, Asset Management Firms, and Sovereign Funds in search of equity rich quality hotel properties in New York City.