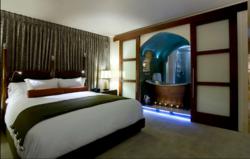 "At Hotel Andaluz, green practices and sustainable travel are not just a trend," said Howard Jacobs, General Manager. "It's a lifestyle."
Albuquerque, NM (PRWEB) September 12, 2012
In honor of the recent Sustainable Building Award from New Mexico Business Weekly, Hotel Andaluz, a AAA Four Diamond, LEED Gold certified boutique hotel in downtown Albuquerque, released the top ten ways the historic hotel's rooms are among the greenest in America.
"At Hotel Andaluz, green practices and sustainable travel are not just a trend," said Howard Jacobs, General Manager of the 107-room boutique property. "It is a lifestyle. These items we are sharing with you today are not the norm in historic hotels or even many brand-new hotels. We are very proud of our LEED Gold status and to be recognized among the nation's most sustainable hotels."
In addition to the items listed below, Hotel Andaluz offers a variety of green ways to enhance the guest experience, including eco-friendly cycling tours and locally-sourced meals in the hotel restaurant, Lucia.
ROOFTOP THERMAL SYSTEM
Guests are thankful every time they take a shower, bath or use the sink at the hotel that the hot water provided is heated directly by the sun and not through the use of fossil fuels. Our rooftop solar thermal system also heats the water for the laundry and restaurant operations. As a result, more than 214,000 pounds of greenhouse gases per year are kept out of the atmosphere at one of the largest hotel systems in use in the USA.
ENERGY MANAGEMENT SYSTEM
Our energy management system is another reason our guest rooms are so green. The heating, ventilation and air conditioning systems are in a very deep slumber before guests check in. When they check in, the system automatically brings their room to a comfortable level and turns on a couple of lights. A series of motion detectors and heat sensors tell the system when you leave your room, and climate controls are placed into a energy saving mode.
FULLY BIODEGRADABLE BOTTLED WATER
The bottled water in our guest rooms are produced with a 100 percent biodegradable material and filled with locally-sourced water from the New Mexico Ogallala aquifer.
STATE-OF-THE-ART HEATING AND AIR CONDITIONING
Our heating and air conditioning systems employ state-of-the-art technology, making them among the most efficient available today.
TWO STAGE FLUSHING SYSTEM
Each toilet has a two stage flushing system – one for liquid waste and one for solid. This system saves thousands of gallons of precious water resources per year. Also, our shower heads mix oxygen with water to give guests a rich, full shower while using just a fraction of the water used in a conventional shower.
CAPTURED RAINWATER USAGE
The live plants are being watered with captured rainwater. We capture the rainwater from off of our roof and store it to provide all the watering needs for our plants.
RENEWABLE FURNISHINGS AND ACCESSORIES
Most of the furniture and bathroom accessories in our guest rooms are made of bamboo or rubber wood, both rapidly renewable resources. If these furnishings were made of pine, it would take 40 times longer to replace the trees consumed to create the furniture. These products help keep our consumption of resources balanced with nature's ability to replenish them – the definition of sustainability.
CAREFULLY SELECTED MATERIALS
The carpet, carpet padding, paints, stains and adhesives that make up our guest rooms have been carefully chosen to help keep the indoor environment as healthy as possible.
ABOVE-AND-BEYOND RECYCLING EFFORTS
During the hotel's renovation, we recycled more than 1,100 tons of debris. For example, instead of sending the hotel's old cast iron tubs and sinks to a landfill, we donated them to a local college foundry where they've been melted down and recast as works of art. We have continued our recycling efforts in the hotel's daily operations too - we recycle the majority of our garbage, which includes all of our paper, cardboard, plastic, metals and the food waste is composted too.
REFILLABLE CONTAINERS
We reduce waste by using re-fillable containers. All of our amenities are in fixed dispensable bottles.
About Hotel Andaluz:
A leader in eco-friendly hotels, Hotel Andaluz has a rich history in downtown Albuquerque, New Mexico. The fourth hotel ever built by Conrad Hilton, Hotel Andaluz was returned to its former glory in 2008 by current owner and local resident Gary Goodman. Hotel Andaluz is the only Historic LEED Gold Certified hotel in the Southwest and the only AAA Four Diamond Hotel in Downtown Albuquerque. With 107 rooms and suites with a variety of meetings, Hotel Andaluz is the only boutique hotel in the City Center and a popular destination for parties, business meetings and weddings.
Interact with us online:
http://www.facebook.com/hotelandaluz
Twitter: @HotelAndaluz