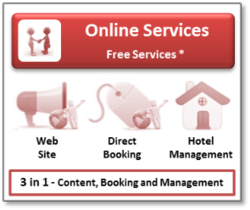 In the last 5 years, HotelASP helped me to increase hotel occupancy by 20% and reduce 50% costs in channel commissions. Hotel Alcaide Manager.
(PRWEB) May 02, 2012
The new HotelASP v3.0 hotel software provides in one service a free hotel public site, web reservation, automatic invoice generation, automatic room allocation and point of sales.
With HotelASP the Hotel Customers explore the hotel content, photo gallery and localization map. Hotel Customers book using the Hotel customizable pricing engine, discounts & promotions and group reservations. The Hotel manages the check ins, folios and check outs.
This new service optimizes the Hotel interaction with the customer and saves time and money by:
1) Reducing channel commission costs (e.g. the Hotel has now his own booking site and is less dependent of the other traditional channel sites, consequently it will pay less money in commissions)
2) Delivering better customer service (e.g. self-service booking by credit card or PayPal and automatic emails sent to customers when booking)
3) Replacing manual time consuming tasks with automation (e.g. daily, weekly, monthly and quarterly booking calendar)
4) Building the Hotel business decisions on real-time accurate information (e.g. forecast room revenue reports, document management and web camera usage to save documents and guests pictures)
5) Analyzing the Hotel business activity with detailed statistics reports (e.g. country statistics, revenue graphs and guest statistics)
6) Taking advantage of front and back offices integrated and delivering better check in and check out customer service (e.g. Manage invoices, receipts and credit notes and send them by email to the Hotel guests)
The online services were designed to be simple and easy with no limits. The Hotel can easily register for a service account and learn how to use the software by watching the HotelASP videos. HotelASP is also integrated with SaasLight free crm software.
HotelASP offers cost reduction and increased revenue by better customer relationship management and improved channel coverage. All these totally integrated with hotel front-office and back-office management.
HotelASP mission is to create a universal, accessible and useful software service that helps any person that needs to monetize a property to get and retain more customers, improve customer service satisfaction and save time and money by automatizing property booking, folio and accounting.
The HotelASP services are already used by a large base and are typically world small hotels managers or small property owners that wants to use a free booking software to monetize their extra rooms or make money from their second home.
The software is multi-property, multi-language, and can be set to work in different cultures and time zones. The software has also document management features that allows the user to capture web cam images and associated them to roomstays or guests.
HotelASP is a WinSaaS cloud software service.