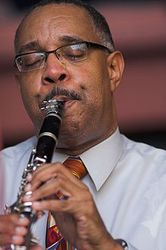 The Majesty of the Blues.
Galveston Island, TX (Vocus) January 23, 2009
New Orleans native and renowned jazz clarinetist Dr. Michael White and his quartet will perform Feb. 20 and Feb. 21 at the Hotel Galvez, a Wyndham Historic Hotel, as part of Mardi Gras! Galveston 2009.
Since 2006, White and his quartet have performed at The Tremont House during the Mardi Gras Festivities in Galveston and The Tremont House Ball. This year, the quartet will perform on Friday, Feb. 20 from 7 to 10 p.m. in the lobby bar and on Saturday, Feb. 21 during The 24th Annual Tremont House Mardi Gras Ball "An African Adventure" held this year at the Hotel Galvez.
White began playing clarinet in classical settings and moved on to perform with brass bands. His earliest contacts with traditional jazz bands were hearing veteran musicians perform at the New Orleans Jazz and Heritage Festival.
He has traveled to more than two dozen foreign countries and 45 states as a jazz musician. Long respected in his hometown and in classic jazz around the world, he has enjoyed recognition through association with renowned trumpeter Wynton Marsalis. The clarinetist is heard on Marsalis' 1989 "The Majesty of the Blues." White's latest recording, "Blue Crescent," is on several "Best CDs of 2008" lists. Recently, he was a 2008 recipient of the National Endowment for the Arts National Heritage Fellowship and performed at the Kennedy Center as a guest of Marsalis and the Lincoln Jazz Orchestra as part of the Presidential Inauguration ceremonies.
White, like many other musicians, was displaced and also lost most of his personal music collection including instruments and original compositions as a result of Hurricane Katrina and he has now returned to New Orleans.
He expresses his thoughts on Galveston's recovery, "These are the times when the true character of a community and its individual citizens are put to the extreme test. This is where patience, resilience, tenacity, unity, and faith must all come together for the cause of recovery and return. Despite the disruption, prayer and determination can lead to a new and even better Galveston which represents not just the recovery of a devastated island, but the triumph of the human spirit on the highest levels - one which extends deep into the essence and meaning of life. We know where you've been and where you are going."
Hotel Galvez is offering a two-night package that includes accommodations, two tickets to the ball on Saturday, Feb. 21, 2009 and parade viewing of the Momus Grand Night Parade. The package price for the weekend of Feb. 20-22, 2009 starts at $1,100. Ball tickets, sold separately, are $350 per couple and include an open bar, dancing, parade viewing, a dinner buffet and a breakfast to complete the evening.
The Hotel Galvez, rated four diamonds by AAA, is a member in the National Trust Historic Hotels of America. The Hotel Galvez is owned by Galveston preservationists Cynthia and George Mitchell and is part of Mitchell Historic Properties. For Mardi Gras ball reservations, call (409) 765-7721 or email mgreservations @ wyndham.com.
Wyndham Hotels and Resorts, a subsidiary of Wyndham Worldwide Corporation (NYSE: WYN), offers upscale hotel and resort accommodations throughout the United States, Europe, Canada, Mexico and the Caribbean. All hotels are either franchised or managed by Wyndham Hotels and Resorts or an affiliate. For more information, visit http://www.wyndham.com.
Media Contact:
Christine Hopkins, Mitchell Historic Properties
Representing Hotel Galvez, The Tremont House and Harbor House
(409) 457- 1055, chopkins @ mitchellfamilycorp.com
###