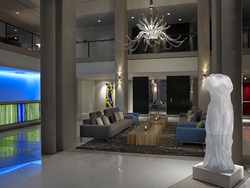 From hidden-away restaurants to can't-miss museums, Fodor's Choice selections recognize the top sights, properties, and experiences our editors and updaters have found in their travels
Tacoma, WA (Vocus) June 19, 2010
Hotel Murano – a downtown Tacoma hotel – has been recognized by Fodor's Travel as one of the Best Hotel Design and has been named a Fodor's Choice Gold 2010 Award winner. This distinction represents a remarkable achievement and recognizes Hotel Murano as a top US property for stunning architecture and décor.
The Fodor's Choice Gold 2010 award caters to travelers with a range of budgets, experiences and interests to make sure that each property listed embodies a truly authentic experience. To see a full list of winners in all ten categories and read a full review of Hotel Murano visit: http://www.fodors.com/fodors-choice/gold-awards/2010/.
Fodor's says of Hotel Murano, "Aptly named after the famous island home to Venice's glassmaking industry, this hotel features exhibits of world-famous glass artists. Dark halls with dramatic lighting set a stage for the colorful art to pop, balanced perfectly with streamlined furniture, white marble, and warm wood tables in other common spaces. The comfortable, unstuffy atmosphere is carried over to the guest rooms."
"From hidden-away restaurants to can't-miss museums, Fodor's Choice selections recognize the top sights, properties, and experiences our editors and updaters have found in their travels," says Fodor's publisher Tim Jarrell. "These places are the best of the best, providing a remarkable experience in their price range or category."
About Fodor's Choice Gold
For the first time ever, Fodor's has selected one hundred Fodor's Choice Gold award winners. These properties embody the 10 best US Fodor's Choice hotels, including Puerto Rico and USVI, in one of the following categories: Best Destination Wedding Hotel, Best Hotel Design, Best Hotel for Kids and Families, Best Hotel Pool, Best Hotel Restaurant, Best Hotel Service, Best Resort or Destination Spa, Best Sense of Place Hotel, Best Urban Escape Hotel, Most Romantic Hotel. For a full review of each hotel and description of why it was chosen, visit Fodors.com at http://www.fodors.com/fodorschoice2010/
About Hotel Murano
As popular as its sister hotel in Portland, Ore., the Hotel Lucia (Travel + Leisure's Top 500 Hotels in the World and Condé Nast Traveler's Top 100 Hotels in the World), the Hotel Murano (1320 Broadway Plaza, Tacoma, Wash., 98402 – 253.238.8000) was named Number 6 on the Top U.S. Hotels Gold List by Condé Nast Traveler Magazine and is unique in the Northwest with its art-inspired design and magnified focus on personal guest services. In addition to the Hotel Lucia, the Hotel Murano's family (http://www.provenancehotels.com) also includes the Hotel deLuxe in Portland, Ore., Hotel Max in Seattle, Wash., and the Hotel Preston in Nashville, Tenn. Visit http://www.murano.com for updates.
About Fodor's Travel
Fodor's Travel, a division of Random House, Inc. is one of the world's leading providers of travel information. Covering over 300 destinations worldwide, Fodor's guidebooks and Web site, Fodors.com, have provided the most up-to-date, accurate information for travelers for more than seventy years. Written by a team of over 700 writers located around the globe, Fodor's provides travelers with engagingly written, intelligently and accurately reported, and absolutely indispensable travel guidance.
###