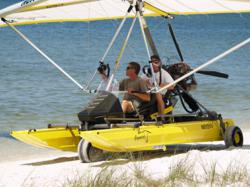 TripShock! has made a mission to consolidate and promote the best activities that are offered in Northwest Florida.
Destin, FL (PRWEB) May 10, 2011
The activity and attraction industry in Northwest Florida has played a huge role in the success of the area. From fishing charters to snorkel tours, Northwest Florida is hard to be beat when it comes to family fun and affordability. Within the past few years, the activity and attraction industry has come a long way by introducing more technology in their marketing and administration. Dynamic websites and online booking systems have become more available, which makes it simple and convenient for visitors and business owners to interact. These enhancements have made it easy for TripShock! to succeed as an online tour agency for the area.
TripShock! has made a mission to consolidate and promote the best activities that are offered in Northwest Florida and allow these activities to be purchased online in a simple and convenient fashion. Within the past two years, TripShock! has partnered with more than 30 activity providers in Northwest Florida ranging from Panama City Beach to Pensacola. Every week, there are more activity providers being added to create an interesting mix of fun and exciting local entertainment.
As TripShock! continues to make an impact in Destin and the rest of Northwest Florida, it has opened its doors to a new affiliate program that allows lodging providers to earn additional revenue through local activity and attraction sales. The program takes minutes to sign up and it's free to participate. Best of all, the logistics is quite simple and requires little time to setup.
The process begins when the lodging provider signs up and a unique link is generated that can be placed anywhere on the company website. When a guest clicks the special link and books any activities on TripShock.com, a commission will be retrieved and placed into the affiliate's account. If the customer does not purchase right away, the tracking link will be active for 30 days so the affiliate will be credited if they come back and book. For each completed sale, the lodging provider will earn three percent. Some affiliates have already seen an additional $10-30 worth of commission revenue generated from certain guests, which can easily add up to thousands in any given year.
The program pays out each month once the affiliate account reaches $50. There is no paperwork or customer service required to receive payment. In addition, technical support is offered if assistance is needed when signing up or generating the tracking link.
If any business is interested in the program, they can start today for free at http://www.tripshock.com/affiliate.html or email gfisher(at)TripShock(dot)com for additional information. TripShock! is a BBB accredited company and a registered seller of travel with the State of Florida.
# # #