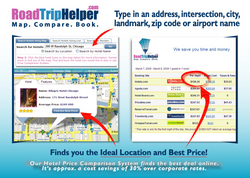 As their slogan goes "Map. Compare. Book." Find the ideal hotel location using the MAP. Then COMPARE prices and see who offers the best price. Then BOOK the hotel from the website that offers the lowest price.
Toronto, ON (PRWEB) February 9, 2010
As the innovative meta search hotels map website continues to add new features, travelers can now receive quick updates on RoadTripHelper's latest implementations. There are currently two ways to recieve these real time updates, either by joining the RoadTripHelper Facebook Fan page or following RoadTripHelper on twitter.
Users of RoadTripHelper.com include leisure travelers and business travelers, as it allows them to find a hotel via a map by entering an address, intersection, city, airport, landmark or university. After choosing the hotel with the ideal location, the RoadTripHelper system will search multiple websites at once and list all thier prices for that particular hotel. Rather than visiting numerous sites to find the best price, RoadTripHelper does this for you at once, saving lots of time and money.
Account Manager, Fatima Rabbani is a frequent business traveler, who finds the plotted hotels on the map useful. "I visit clients all over Ontario constantly, RoadTripHelper.com allows me to find the closest hotels to thier addresses and quickly show me which website has the best deal to book from."
Similarly for liesure travelers one can see where the hotels are situated on an island or near a particular attraction or landmark.
RoadTripHelper also displays hotels in the traditional list with powerful filtering capabilities. It has a very large inventory of hotels to display as it has conglomerated all of the hotels from Travelocity, Orbitz, Priceline, Hotels.com and many more websites.
RoadTripHelper, the hotels map Facebook Fan page can be visited by anyone, regardless if they have a Facebook account. However, in order to join the Fan page for updates, one must have a Facebook account, similar to Twitter.
The RoadTripHelper hotels map Facebook Fan page includes videos, photos, history of updates, and discussions. Although the Contact Us directly on RoadTripHelper.com is the sure way to contact the RoadTripHelper team.
As the fan base grows for RoadTripHelper.com and spreads, more and more travelers realize that finding a hotel via the RoadTripHelper.com system is more beneficial than searching for hotels on individual websites such as Expedia, Travelocity, Orbitz and others.
###