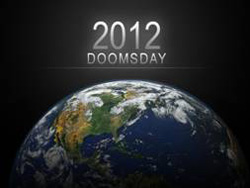 It is a chance to celebrate life and be surrounded by Mayan magic.
Playa del Carmen, Mexico (PRWEB) November 13, 2012
To celebrate "The End of The World," Condo Hotels Playa del Carmen announces its Doomsday Promotion. The popular hotel brand will waive charges on December 21st for those staying a minimum of three nights. This offer cannot be combined with any other promotions.
If the Mayan calendar is correct, doomsday is near. The ancient 5,125-year-long cycle in the Mesoamerican Long Count calendar marks the end of the world through cataclysmic or transformative events on December 21st of this year. The calendar was designed by the Olmec, the oldest civilization in Mexico. Other astronomical and numerological charts also chart this date as significant.
While this is but one of many interpretations out there, the idea that life could end as we know it has given many a chance to reflect on what's important in life. What if the world ends? How will each individual choose to spend his or her last days on earth? Maybe the most interesting trip to take is to delve into Mayan history and culture by visiting the ancient ruins and current cities of Mexico.
"We're running this promotion in observance of the Mayan prediction," says Jack Pearlman, owner of Condo Hotels Playa del Carmen. "It is a chance to celebrate life and be surrounded by Mayan magic. We hope that the timing and prices are just right to give people the opportunity to book a truly spectacular getaway to our beautiful Caribbean condo style hotels."
In addition to the condo hotel promotion, there will be plenty to see and experience while in the area this December. There will be reduced rates on Mayan Ruins tours, plenty of doomsday festivities downtown, and excursions out on the Riviera Maya. From shopping to nightlife, there is never a dull moment in Playa del Carmen.
For more information about booking and the Doomsday Promotion, visit the Condo Hotels Playa del Carmen website at http://www.condohotelsplayadelcarmen.com/ or contact their office at +52 984 879 3918. Their office is located at 1 Avenida Norte Entre 16 Norte Bis y Constituyentes, 77710 Playa del Carmen, Quintana Roo, Mexico. You can also contact the Porto Playa Condo Hotel & Beachclub at 1 Avenida Norte Esquina 16 Norte Bis, 77710 Playa del Carmen, Quintana Roo, Mexico for bookings by calling + 52 984 879 3919.
About Condo Hotels Playa del Carmen
Condo Hotels Playa del Carmen has four properties under its brand: El Taj, Maya Villa, Porto Playa, and Villas Sacbe. Located in Playa del Carmen in the exclusive beach zone, guests have access to local shopping, restaurants, and attractions near Fifth Avenue. These condo style hotels have earned some of the highest ratings on TripAdvisor. For luxury accommodations along the Riviera Maya, book a reservation today at one of the four properties.