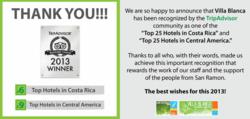 San Ramon, Costa Rica (PRWEB) June 06, 2013
Greentique Hotels proudly announced today that one of its member hotels had received two prestigious TripAdvisor® Certificate of Excellence awards.
Villa Blanca Cloud Forest Hotel & Nature Reserve earned position within the exclusive echelon of the Top 1% of all hotels in Central America, at #9, as well as recognition as #6 in the ranking of the Top 25 Hotels in Costa Rica.
The accolades, extended to qualifying businesses worldwide, honor excellence in hospitality and are given to establishments that consistently achieve outstanding traveler reviews on TripAdvisor. Only the top-performing 10 percent of businesses listed on TripAdvisor earn this prestigious recognition.
To qualify for a Certificate of Excellence, businesses must maintain an overall rating of four or higher, out of a possible five, as reviewed by travelers on TripAdvisor. Additional criteria include the volume of reviews received within the last 12 months and length of time listed with the review site.
Greentique's Si Como No Resort and its Rico Tico Bar & Grill are also recent Trip Advisor Certificate recipients. "Greentique Hotels is pleased to accept another TripAdvisor Certificate of Excellence," said Jim Damalas, president of Greentique Hotels. "Our commitment to sustainable hospitality in offering our customers memorable and authentic Costa Rica experiences permeates all our member hotels. We see these awards as evidence that our efforts to support sustainable tourism are recognized and appreciated by our guests, and that the Greentique Hotels model of sustainability in Costa Rica is not just the future, it's here, happening right now."
The distinguished Villa Blanca Hotel & Nature Reserve placed in the Top 1% of all hotels throughout Central America at #9 while at the same time, earned the Award of Excellence for the Top 25 hotels in Costa Rica, at #6. TripAdvisor reviews stand testament to a quality of service and accommodations one can expect while staying at a Greentique member hotel.
"TripAdvisor is delighted to celebrate the success of businesses around the globe, from Sydney to Chicago, Sao Paulo to Rome, which are consistently offering TripAdvisor travelers a great customer experience," said Alison Copus, Vice President of Marketing for TripAdvisor for Business. "The Certificate of Excellence award provides top performing establishments around the world the recognition they deserve, based on feedback from those who matter most – their customers."
Villa Blanca Cloud Forest Hotel & Nature Reserve is considered by many to be the most unique and enriching Costa Rica experiences, as guests actual stay within the cloud forest. With less than 2% of these rare and precious forests remaining on the entire planet, it is truly an exceptional opportunity to experience the magic of nature in Costa Rica.
About Greentique Hotels
Greentique Hotels, a recognized leader in high quality, sustainable hospitality in Costa Rica, offers exceptional boutique hotel and resort experiences at all of our member properties. Enjoy the very best in personalized service, premier dining, and our unique, nature-based activities created to immerse you in the magic of nature in the country's most spectacular regions. With Greentique Hotels, you can travel well and travel right in Costa Rica.
For more on Greentique visit their website at http://www.greentiquehotels.com.
GTQH member hotels and resorts in Costa Rica currently include:
Si Como No - a Manuel Antonio hotel on the Central Pacific Coast
Villa Blanca - http://www.villablanca-costarica.com above San Ramon in the Central Highlands
Aguila de Osa - a Drake Bay hotel on the Osa Peninsula